By Justin Belden on Jul 30, 2010 with Comments 0
---
Modern technology with telephone systems has been very helpful in maintaining good communication and management of phone calls. Call transfer is a very interesting service of the modern era that is not limited to the local phone lines now. You can use the service even on your mobile phones. Mobile connection providers are now providing this service by which you can transfer calls even if you are present outside your home or office. Following are the simple and concise steps by which you can have this amazing service on your handhelds:
Acquire a phone service. There are many mobile service providers that can provide you with the service of 'call transfer.' You must acquire one of these services. Some providers may provide you special rates. You can take their service.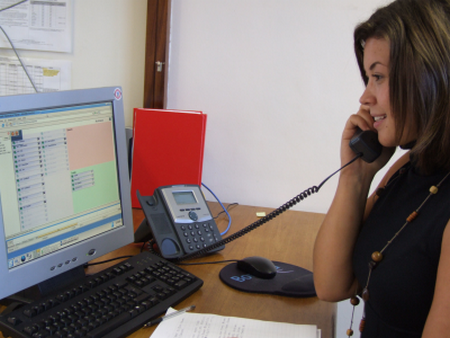 Learn the use of right buttons. You should use the codes to activating the transfer calls. Usually the transfer calls are used in the same location i.e. your home or your office.
Press the hold button and start transferring the required call to the number desired by the caller. The caller may hear a beeping sound or a song while you do the procedure afterwards.
Dial the code or the extension number and wait for reply. You should hung up after announcing the transfer if the call is attended..
As you hung up, the caller plus the desired person will be connected through their cell phones instantly. You should tell the desired number politely, that if he/she will hold the phone, he will be disconnected from the caller.
Push the call button again, if the desired number refuses to attend the call.
Some of the options provided by the services allow the call transfer from home phones to the mobile phones. VoIP call transfer or Vonage call transfer is the most popular option and the other one is in-PHONEX. Some buttons can be used to transfer the calls. These are the code buttons for different numbers.
Customize the transfer options.  Freedom800 is a service that offers special facilities such as customization. Mail box recordings and the greetings can be easily customized. You can redirect other numbers to the voicemail. And you can make some special numbers such that they may be able to contact you anytime.
Transferring calls service is very easy. A good set up and a nice set of options will make this easier for you. You will be able to do the office work as well as the domestic chores in an adequate way and you will be finding it very helpful.
Filed Under: Computers & Technology
About the Author: Justin Belden is a freelance web & graphic designer with over 15 years' experience. He is also an Avid member of the Design/Development community and a Serial Blogger who loves to help people by sharing interesting and informative tips and trick related to computer and technology.
Comments (0)