By Fred Goodson on Mar 26, 2010 with Comments 0
---
The best time to teach your dog to walk with you without a leash is between ten weeks and four months, when he wants to follow you— before adolescence and its accompanying independence. To accomplish this, begin in your house by playing hide-and-seek. There are a few ways to play this game; you can wait until your pup is investigating something, then hide behind a door and call him. Have a party when he finds you—squeal and jump around using your baby-talking voice. Or if he likes balls or squeaky toys, you can throw one of them in one direction, then quickly hide while he's fetching. This game not only encourages your puppy to keep an eye on you, it also improves his retrieving skills. Like children, puppies think the game is wonderful, and they'll play it well into adolescence and adulthood.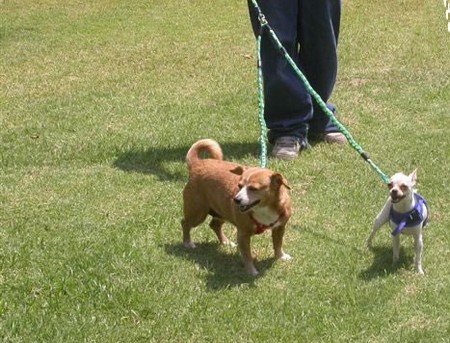 Once he's pretty good at hide-and-seek, you can take it outside, but be prepared to teach it all over again, as this environment is pretty darn interesting—much more interesting than you. It's preferable to go to an unfamiliar locale, and of course it must be safe. You can put a leash on your puppy, but let it drag on the ground. Go for a mini-walk, and as soon as your pup begins to investigate something else, quickly run or trot away from him, and hide in a conspicuous spot. This is just like Easter egg hunts for toddlers: The eggs are "hidden" in plain view to help the kids find them. When your puppy turns and discovers you, act very excited and tells him how clever he is—he just found an "egg!" Play this game a lot, as you're going to love the long-term results. Rather than you following your dog as he wanders away, he will follow you. Not only have I used this technique with all the puppies I've had, I also used it with my daughter, who thought it was a good game as well. When other moms were chasing their kids down grocery-store aisles, my daughter was following me.
Filed Under: Pets & Animals
About the Author: Fred Goodson has a passion for pets and animals. He has 4 dogs and is planning to have another one. He is also a blogger who writes about pets and animals. Currently, he is living in New Jersey.
Comments (0)