By Fred Goodson on May 06, 2010 with Comments 0
---
The occasion may arise when you have to put your cat in a cattery. This may be because of holidays or because of illness. Even if you do not see an immediate need for boarding your cat, it is a good idea to find a suitable cattery in your area in case of emergency.
Make sure the cattery is suitably licensed, according to local regulations. The accommodation should be of a reasonable size, clean and dry with a solid, easy-to-clean base. Most outside runs should be housed on a similar base which makes for easy cleaning after each resident has left. Some guidelines also recommend a sneeze barrier between each run to prevent the transmission of infection. Other factors to check for include the requirement for up-to-date vaccination certificates, the feeding of any special diets, whether any other animals such as dogs or rabbits are boarded on the same premises, security of premises and continuity of care.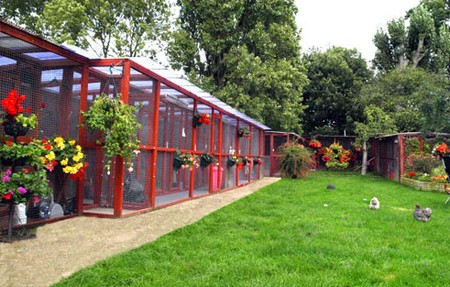 Equipment: Current vaccination card, optional extras – your cat's own food, toys, bedding, and litter.
Training objective: To train your cat to accept his cattery accommodation as his second home.
Training steps
Train your cat to travel in his cat carrier.
Once you have found a cattery that meets your specifications, book your cat to spend one night on the premises. On collection, your cat's demeanour will tell you volumes about what he thinks of his holiday home. It will also give you the chance to assess his living accommodation and on-going care.
Increase your cat's sense of familiarity by asking the cattery owner if he can have his own toys, blankets, feeding bowls and litter trays. In most cases, a cattery owner will allow toys and blankets, even if the other items are not permitted.
If your cat is fond of a particular food that is not supplied by the cattery owner, ask if you can leave sufficient supplies to cover your cat's stay.
When you collect your cat from his cattery, make a fuss of him when you arrive home and feed him his favourite treats. Make sure that you place his belongings in their usual place at home to increase his sense of security.
Filed Under: Pets & Animals
About the Author: Fred Goodson has a passion for pets and animals. He has 4 dogs and is planning to have another one. He is also a blogger who writes about pets and animals. Currently, he is living in New Jersey.
Comments (0)