By Fred Goodson on May 06, 2010 with Comments 0
---
This is where the fun begins! In fact the training required for showing is all part of a socialisation process which all cats would benefit from – and they certainly enjoy the extra treats and toys which are used in training.
Equipment: You will need to obtain a suitable cat pen, and the necessary show equipment, so that your pet is familiar with them before the show.
Training objective: To acclimatise your pet to stay inside the pen for relatively long periods. The minimum time your cat will be penned at a show will be 6-7 hours and, in Europe and America, shows can last for more than one day. Your cat will also have to get used to wearing a piece of ribbon or elastic around his neck, which will be used to display his pen number on a disc.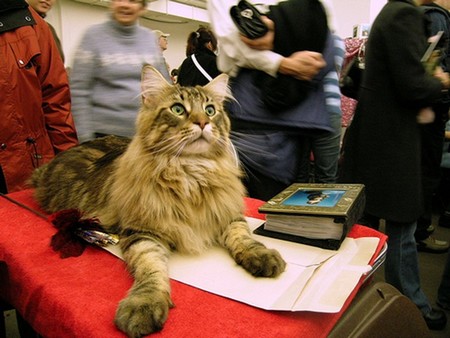 Training steps
Set up your pen on the table and prepare its interior as described under your registration body's show rules. For the beginning of the training session, use your cat's own familiar blankets, a small open litter tray, water and food bowls.
Place your cat into the pen for a short period of time. Reward him with a food treat when removing him from his pen.
Gradually increase the length of time on a daily basis. It is a good idea to place some of your cat's favourite toys in the pen – although this will not be permitted on show days.
Tie a piece of ribbon or some elastic around your cat's neck so that he gets used to wearing it. Watch him carefully for a few sessions to ensure that he does not trap one of his legs as he tries to remove the ribbon or elastic or choke on whatever you have tied around his neck. Each time you remove your cat from the pen, take off his ribbon or piece of elastic and reward him with a food treat.
Filed Under: Pets & Animals
About the Author: Fred Goodson has a passion for pets and animals. He has 4 dogs and is planning to have another one. He is also a blogger who writes about pets and animals. Currently, he is living in New Jersey.
Comments (0)