By Jason Prickett on Dec 08, 2009 with Comments 0
---
Tiling a ceiling is an alternative to papering for disguising a ceiling surface that is rough or cracked. By far the most common type of ceiling tile is made from expanded polystyrene. The tiles are about 10mm thick and cither about 300mm or 600mm square, and have bevelled edges. They are available plain or in a wide range of designs, which are embossed on to the surface of the tile. Polystyrene tile adhesive should be used to stick the tiles to the ceiling surface. Never use a solvent-based adhesive.
Less common are fibre tiles, made by pressing together a mat of wood or mineral fibres. The tiles are rather thicker than polystyrene ones – up to about 19mm in some cases – and their edges may be tongued-and-grooved so each tile interlocks with its neighbours. This allows the tiles to be secretly fixed to the ceiling with pins or staples. The surface may be plain or embossed, with sizes again about 300mm or 600mm square.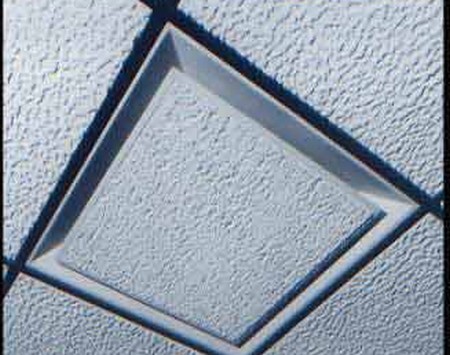 To complement a tiled ceiling (or for that matter a painted or papered one) cornice or coving can be fixed in the angle between the wall and ceiling all round the room. Cornices are ornamental mouldings, while strictly speaking coving is just a curved cross-section, linking the two surfaces together. Both types can be formed in situ by plasterers, but nowadays they are sold in prefabricated lengths which can be stuck in place and painted. The cheaper types are made from expanded polystyrene and should be stuck in place with the same adhesive as that used to fix polystyrene ceiling tiles. They come complete with pre-formed corners for turning internal and external angles. The more expensive types are formed from plasterboard, fibrous plaster or even glass fibre. The first two are generally stuck in place with plaster or with a plasler-likc adhesive; glass fibre ones are usually pinned into position. With all three, corner mitres have to be cut.
Another type of ceiling tile is used to make illuminated ceilings. These are supported by a framework of slim, lightweight support members criss-crossing the room just below the existing ceiling level and supported on wall battens fixed round the perimeter of the room. The support lattice carries translucent panels that can be lit from above by fluorescent light fittings fitted to the existing ceiling surface. The panels come in a range of colours and embossed patterns, and can easily be lifted out for cleaning or for maintenance work on the light fittings above.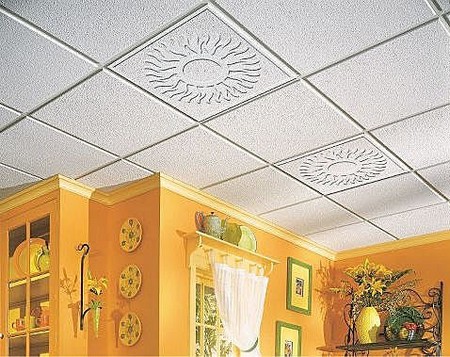 Estimating numbers for ceiling tiles is just a matter of measuring the ceiling dimensions and calculating how many tiles will be needed to cover it; cut tiles are counted as whole tiles for estimating purposes. Coving is sold in standard lengths, usually lm, 2m or 6ft; measure the room perimeter and buy sufficient lengths to allow for cutting mitres. If you are buying an illuminated ceiling (sold chiefly by direct mail from advertisements in home interest and d-i-y magazines) ask the manufacturer about detailed instructions for measuring up and estimating.
Few, if any, specialist tools are needed for fixing ceiling tiles. For polystyrene tiles, a spreader for the adhesive (usually sold with it), a sharp knife and a straight edge for cutting the tiles to size are all that is needed. For fibre tiles, use a tenon saw for cutting the tiles to size and fix them in place with either a staple gun or a pin hammer. For cornice and coving, a fine saw is needed to cut the material and for accuracy a mitre board should be used. Any slight irregularities can be filled with the adhesive once the length is cut and fixed in position. To install an illuminated ceiling, a hammer for fixing the wall battens, a hacksaw to cut the support battens to length and a sharp knife to cut edge panels precisely to size are needed.
Filed Under: Home & Maintenance
About the Author: Jason Prickett loves to write about home maintenance and stuff you can do yourself instead of hiring any professional. His step by step guides will assist you in completing your home maintenance tasks.
Comments (0)