By Roberta Southworth on Apr 19, 2010 with Comments 0
---
Getting dressed in the morning is a skill that vir­tually every child masters. Before your child learns how to put clothes on, she'll learn how to take them off. It's a lot easier to take off a pair of socks or to slip out of a sweater than it is to put on a shirt or a pair of pants. The best age to start teaching your child to dress herself is about eighteen to twenty-four months, when she has developed some coordination skills.
You will have to show your child how to get dressed, item by item. Pick an easy-to-put-on garment (such as a pair of sweat­pants that can be pulled on without much effort). Put the gar­ment on your child, then let her try by herself. Keep repeating this until she does it without your help. Point out clues that will help her: for instance, that labels go at the back of clothes; that the front of a T-shirt has a picture; that the pockets on a pair of pants are usually at the front. Give your child lots of time. First thing in the morning, when everyone is in a rush, is not the best time to start.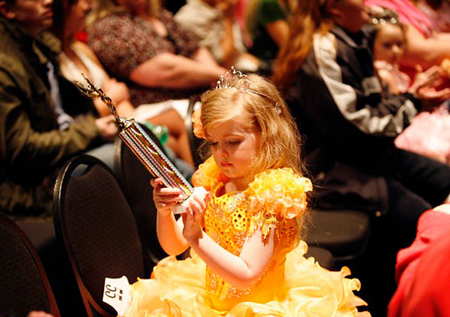 About the age of three or four, your child may be able to get partly dressed by herself. You can make dressing easier for her by laying out the clothes in a fixed order, on the floor. This way she knows with which garment to start. You might even put a small sticker on the front of each garment to help your child identify the way it should be worn. Pick clothes that don't involve com­plicated maneuvers during dressing—tops with loose necks are better than ones with buttons or zippers. Choose shoes with Velcro fastenings.
Your child will be more interested in getting dressed when she likes her clothes. Select items that are brightly colored, with attractive patterns. Young children particularly love clothes that they help choose. Let your child be involved in selecting which clothes she'll wear the following day; any child can be very fussy about what she wears. The more you involve your child in deci­sions about dressing, the more likely she is to cooperate with you.
By the time your child reaches school age, she should be able to put on most clothes by herself, without your help. However, even at this age zippers and buttons may still be too difficult. Likewise, your child may not be able to tie her shoe­laces or fasten buckles on her sandals. Choose practical clothes that your child can manage independently, and iron on name labels for each garment. Give her lots of practice taking off her coat and hanging it on a hook and arranging her clothing neat­ly after she has been to the toilet. Your child will have to man-age these tasks every day at school.
Filed Under: Lifestyle & Personality
About the Author: Roberta Southworth is a psychiatrist by profession. She likes to help out people by writing informative tips on how people can to solve their family and relationship issues. She is currently staying in Ireland. She has 5 years of couple counseling experience.
Comments (0)