By Roberta Southworth on Sep 21, 2010 with Comments 0
---
Since an accurate reading of your baby's temperature can prove vital, know the axillary and rectal methods give the best results. This will help your baby's doctor decide how to respond to a fever and potentially serious infection based, so you need to know how to take your baby's temperature on your own.
Axillary Method
Having a digital or traditional mercury thermometer with you is one of the most important baby supplies, if you still do not have one you can get it at www.mcdaidpharmacy.ie. Clean and dry the thermometer with soapy water or rubbing alcohol before use. Keep in mind the mercury in a traditional thermometer must read under 95 Fahrenheit degrees before using.
Clear the baby's armpit. A clear and dry pit will help you get an accurate temperature.
Stabilize the infant. Have your baby relaxed or occupied by feeding him. Place the thermometer under the infant's arm. Ensure the bulb makes full contact with his skin by holding your baby's arm tight to keep the thermometer securely in place.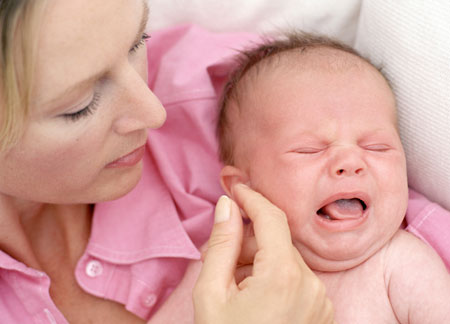 Hold that position for three to five minutes. If you use a digital thermometer, wait until it beeps.
Read the thermometer. If the temperature reads below normal, you probably did not have the thermometer placed correctly. An infant's temperature usually ranges between 97.6 and 100 Fahrenheit degrees.
The axillary method offers far less accurate readings than the rectal method and can be as much as two degrees lower than the internal rectal method.
Rectal Method
Have a digital or traditional mercury thermometer with you. Ensure you set the digital thermometer to its correct mode before use.
Apply a small amount of petroleum jelly to the bulb of the thermometer to allow for easier insertion and comfort. You may also use a disposable sleeve made for this method.
Lie the baby face down on her stomach. You may want to hold her legs up near the baby's ears while she lies on her back. Many infants find the tummy-up position more comfort since they are familiar with that position from diaper changes.
Try to stabilize the baby to avoid wiggling too much. Separate the buttocks and slowly insert the thermometer's bulb about one-half inch to one inch (1.3 to 2.5 centimeters) into the rectum. Insert it so just the metal bulb is inside.
Don't let go of the thermometer. Hold the baby's buttocks with your hand or the thermometer will not stay in place correctly. Hold the thermometer steady using your index and forefinger. Stay in this position for two to three minutes. If you use a digital thermometer, wait until it beeps.
Gently remove the thermometer and read the temperature.
Always consult with your baby's doctor for the method you use for temperature taking, and ask at what temperature you should worry.
Filed Under: Family & Relationships
About the Author: Roberta Southworth is a psychiatrist by profession. She likes to help out people by writing informative tips on how people can to solve their family and relationship issues. She is currently staying in Ireland. She has 5 years of couple counseling experience.
Comments (0)