By Andrew Reinert on Jun 29, 2010 with Comments 0
---
There is nothing new in removing the unwanted hair from your hands, legs, upper lips and brows. Threading is nothing new, it is an existing skill right from the time of people of Persia and that place is still named the same.
What is threading?
It is an art, which makes use of strong cotton threads to remove the unwanted hair. It is a skillful art that can be learnt only with regular and rigorous practice. Without the use of chemical solutions, powders and any equipment, with the help of a single cotton thread we can remove the unwanted hair in a very secure and hygienic way. Are you now eager to recognize how this threading is done in legs, hands, upper lip and eyebrows? If your answer is yes just, go ahead.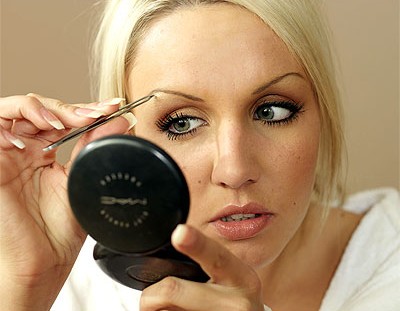 Required things:
Latex gloves to perform threading in a neat and proper way. Go to a nearby saloon, enquire what sort of thread is used for threading, and buy a thread. Avoid breaching the thread while undergoing the session to obtain better results. All you need is a roll of yarn that is 4 feet or 24 inches long. Circle the thread by using knots on both ends. And the next step is hair removal by threading method.
Steps followed for threading are:
Threading the cotton rope.
Twisting the thread.
Hair removal by threading.
Threading method:
Hang the circular thread around your neck in a loose loop manner. See to it the thread settles on your nape and it is visible to you without bending your neck. Wear your pair of gloves and hold the thread in your hands that you had rolled in your neck earlier.
Twisting the thread:
Twist the thread repeatedly until it is stiff and firm. Twist many times continuously. Never stop in between.
There are two different twisting techniques. One is the form the alphabet "X". Other is to form the shape of the number "8"
Threading session:
Be careful to have the first trial. If it is your first attempt just go with your legs. The reason to say you to start with your legs is that if you relinquish the process in between its easy to cover your legs rather than the other parts. The statement seems to be funny but that is the exact truth. You will know it when you try it. Mastering yourself in threading needs all your cooperation and coordination. Hold the thread in your hands, tightly place on the spot and loosen it upwards and taut it again with your neck. Doing it reputedly generates a rocking motion.
Final touch:
Once when the process is complete splatter some cold water to have a fast relief from tingle. Even Brazilian wax helps you to do it. Threading a very effective method for unwanted hair removal.
"Slash the surplus, stay with a great plus"
Filed Under: Health & Personal Care
About the Author: Andrew Reinert is a health care professional who loves to share different tips on health and personal care. He is a regular contributor to MegaHowTo and lives in Canada.
Comments (0)