By Vanessa Page on Apr 21, 2010 with Comments 0
---
Try to put each candidate at ease and establish a rapport with him as soon as he enters your business premises. By the time the interview begins, he should then feel relaxed and be ready to answer your questions in a confident, open manner. If interviews are well spaced out and run to schedule, consider meeting him personally when he arrives. This will instantly create a caring image and make him feel good about you and your company.
Typically, a candidate will be early for his appointment, perhaps arriving while you are still interviewing the previous candidate. You should therefore ask a colleague or a member of staff to greet him on your behalf. If he is simply ignored, he will soon become increasingly edgy and nervous ('Have I come to the correct office? Am I too early? Is this the right day? Did she mean this Thursday or next Thursday?') In the wrong frame of mind for his interview, he might panic and walk out, and even if he stays, it will take you longer to calm him down.
Whoever is responsible for meeting a candidate should acknow­ledge his arrival with a ready smile. This will make him feel welcome.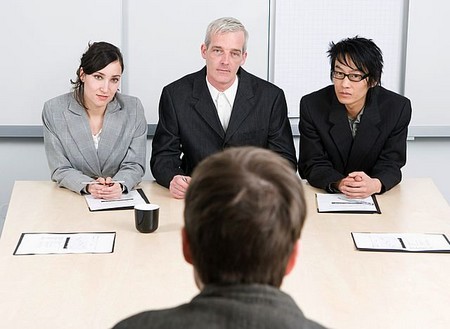 Asking for his name and then using it will reassure him that he is expected ('Good morning, Mr . . .? Ah yes, Mr Jones, you've come in for your ten-thirty appointment with Mrs Reynolds. I'll tell her you're here') He should be shown to a comfortable chair and, as appropriate, offered a cup of tea and company brochures to read while waiting for you. Reimbursing travel expenses and checking qualifications could also be attended to now.
Always adhere to the agreed interview time. If he is left sitting there for a further five or ten minutes, as often happens, it may unnerve or annoy him. He will also assume you are either incom­petent or, more likely, ill mannered. The interview will then start badly. You will find it hard to relax him and gain his confidence.
Come out of your office into the reception area to welcome the candidate. Do not expect him to find his own way to you through an unfamiliar building. Not only will this seem rude and uncaring but, if directions given are unclear and the premises are large, he might become lost or even disappear completely. Save time and potential embarrassment by fetching him in person.
When introducing yourself, smile warmly and make eye contact thus showing that you are pleased to see him and keen to hear what he has to say to you. Build on this by shaking hands and addressing him by his name ('Hallo, Mr Jones, I'm delighted to meet you. I'm Maureen Reynolds, the sale's manager who'll be interviewing you. Would you like to come with me?') Chat pleasantly en route to the interview. Questions such as 'How long did it take to travel here?' and 'Have you had a good journey?' can help to start a conversation and set a relaxed mood.
On arriving at the interviewing room, guide the candidate towards his seat. This is especially important if the layout is informal and it is not obvious who sits where. Many interviewers would then offer him a drink or a sweet to put him at ease, but this is largely unnecessary if the conversation is developing well. Also, leaving him alone while you go to make a cup of tea or coffee can heighten tension. If a member of staff is sent to do it, his return may disrupt the interview later on. The nervous candidate could even knock a drink over or choke and splutter on a sweet. He might further be expected to answer a question at the precise moment he takes a mouthful of hot tea or bites into a sweet, which will embarrass him.
Never make a decision about any candidate in these first few minutes. Far too many interviewers brag that they can make an accurate assessment almost instantly. Often, the basis for this 'assessment' is extremely tenuous, if not downright illegal (Poor fellow has a sweaty handshake and bites his nails. Obviously an insecure bag of nerves who can't handle pressure! Close-set eyes, looks rather shifty and untrustworthy. Can't have him! Ginger hair, always quick-tempered and unreliable. No use to us! Doesn't shave her legs, must be one of these modern women. Bit too modern for this company!) Such thoughts, sadly far from uncommon, owe more to the interviewer's prejudice and bias than a systematic analysis of the facts.
Every candidate, regardless of sex, marital status, race, disability, age and so on, must be given a fair and equal hearing, asked similar questions that provide answers which enable the interviewer to compare them with the employee specification and be judged solely on their ability to do the job. A decision should not be made until after the interview has been completed, when all the relevant facts have been obtained and are available for study and comparison with those of the other candidates.
Filed Under: Work & Careers
About the Author: Vanessa Page works a career counselor in one of the leading firms in Los Angeles. She is also a blogger and gives tips on how people can tackle their work and career issues. She has 8 years of experience in this field.
Comments (0)