By Jason Prickett on Apr 16, 2010 with Comments 0
---
Stamping or block printing was one of the earliest means by which fabrics were decorated mechanical­ly. The method is simple: a relief image is carved onto a wooden block, dipped into ink, paint or dye, and then stamped onto a surface. By the eighteenth century many of the Indian calicoes or 'chints' (a type of earlty chintz), so sought-after in the West, were block printed in order to meet the huge export demand.
Block printing can be done with vegetables or fruit. Potatoes are a popular medium as they are easy to cut and offer a generous printing surface area, but carrots and turnips can also be used. Hard fruits, such as apples and pears, give a delicate print when they are halved. Remember to leave the cut area exposed to the air for a few minutes so that it goes brown – this dries out the surface and ensures a good print impression. You can also make an attractive print from ordinary household items such as string or rope. Glue lengths of them onto a wooden block to form an interesting pattern. When you print with them, you will produce a highly textured effect. You can use vegetable or wooden blocks to stamp a wide variety of items, including trays, boxes, furniture, wickerwork and fabric.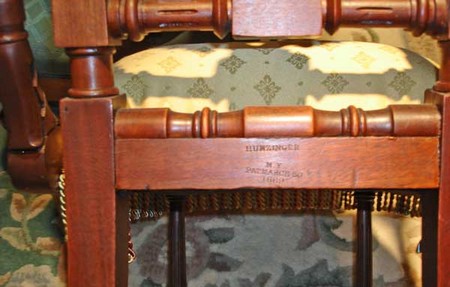 Stamping furniture
Before you start, test your stamps on paper first. This is vital, since no two stamps are alike, and you may need to make adjustments to the amount of pressure you apply in order to get a good result. Start with something simple, such as a mirror frame painted a plain colour in eggshell (eggshell offers a good base when it comes to stamping furniture). Place a stamp in the centre of each side, and one in each corner. Probably the easiest design would be flowers or leaves, or some form of geometric pat­tern. Instead of redecorating a whole room, you could just add a border. Or you could decorate the top of a chest of drawers with a border of stamped images, and perhaps the same stamped design on either side of the handle of each drawer. Chairs, chests, tables, boxes can all be treated in the same way. You can dust on an embossing powder, which comes complete with instructions, when working on furniture – it must be heated briefly (a hair dryer held at a safe distance is fine) to fix it. Always finish with an all-over coat of gloss or matt varnish to pro­tect both the furniture and the stamped image.
You will need:
Wooden chair
0.5 It (1 pt) tin of eggshell paint
Paintbrush
Card
Pencil
Scissors
Four potatoes cut into halves
Kitchen knife or penknife
Small tin of black poster paint
Small tin of red poster paint
Gloss or matt varnish
Method
Prepare the chair surface by cleaning it and painting it a plain colour in eggshell paint.
On the card, draw the stamp shapes: hearts, clubs, spades and diamonds. Carefully cut out the shapes. We have made large stamps for the chair seat and smaller ones for the frame.
Shape each potato half into a square. Place your card cut-out shape on top of the square surface and, with a sharp knife, cut around it. Remove the card and cut away under the shape at an angle so that you make a 'V' under your stamp. Leave the base of your block square – this is what you hold as you stamp. Make eight stamps; a large heart, diamond, spade and club, and a small set as well.
Once you have made your stamp shapes, you can start applying them to the chair. Dip each stamp into the poster paint and press it firmly onto the chair surface. Leave to dry for a couple of hours.
Once the paint is dry, apply a coat of varnish for protection. Leave to dry overnight.
Filed Under: Home & Maintenance
About the Author: Jason Prickett loves to write about home maintenance and stuff you can do yourself instead of hiring any professional. His step by step guides will assist you in completing your home maintenance tasks.
Comments (0)