By Andrew Reinert on Nov 30, 2010 with Comments 0
---
Reactive arthritis shares similar symptoms with arthritis, except for occasional eye and skin inflammations. It usually affects the joints in the lower extremities, but it can also cause pain and inflammation in any other joint. Reactive arthritis results from a bacterial infection somewhere in the body. The bacterial infection can result from any type of infection, such as a sexually transmitted disease or gastrointestinal disease caused by salmonella, for example. The cause of the reactive arthritis differentiates it from other types of arthritis.
1. If you develop arthritis after treatment for an infection, you might suffer from reactive arthritis. You might still suffer from the infection, or treatment might have cured it. Reactive arthritis usually appears a few weeks after the infection affected the body. Analyze the past few weeks and think of any treated or untreated infection you suffered, such as food poisoning. You should tell your doctor about any type of infection in your body in recent history in order to get a correct diagnosis.
2. Reactive arthritis sometimes comes with an eye infection. If you experience red and watery eyes, you might suffer from conjunctivitis. You might also have gummy eyes in the morning, with mucus sticking to your eyelashes. You doctor can prescribe a different treatment for your eye problems.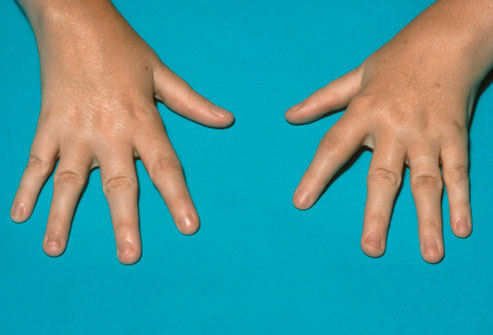 3. Patients with reactive arthritis often have joint pain in the mornings. Observe your joints when you wake up. If they appear red, painful and stiff, you probably suffer from arthritis. The sensation generally goes away throughout the day, but it will probably get worse over time if you don't pursue proper treatment. Pain and stiffness also come in when you sit still for a period of time. If you work in the same position all day long or drive long distances, you will get the same sensations as you do in the mornings. If the stiffness and pain go away after moving around, it signifies arthritis.
4. Your joints will swell if you stand for a long period of time. Sitting for a few minutes will release some of the pain, as it takes pressure off the joints. You should also try changing positions from time to time if you cannot take a break and sit.
5. Reactive arthritis sometimes causes urogenital tract infections, signified by a burning sensation and frequent urination in men, and vaginal infection in women. Don't let these infections go untreated. Report any symptom to your doctor and get proper treatment.
6. If you notice any of symptoms of reactive arthritis, immediately go to your doctor for a complete check up and diagnosis. Doctors can treat reactive arthritis with medication, physical therapy and alternative medicine methods. Your doctor will recommend the best treatment options for your case.
Filed Under: Health & Personal Care
About the Author: Andrew Reinert is a health care professional who loves to share different tips on health and personal care. He is a regular contributor to MegaHowTo and lives in Canada.
Comments (0)