By Carl Tackett on Aug 03, 2010 with Comments 0
---
Grand Cayman is a beautiful place to spend time on holidays. It is a Caribbean island which is located to south, nearly  150 miles away from Cuba. This is such a beautiful place which no one would want to miss. Cruise ships take in this place as their harbor of call. You can make this visit a terrific one by visiting the hot spots. The following guidelines will assist you in knowing which places you must visit and what activities you can take part in while being at Grand Cayman.
Make a visit to stingray city. A boat ride would hardly take any time to take you to stingray city where the hungry stingrays will welcome you. These stingrays will gather around you when you will stand on water, 3 feet deep. You can lay a hand on the stingrays and can also feed fish to them. Experience them toss down the fish as you lower your hand holding the fish in their mouth.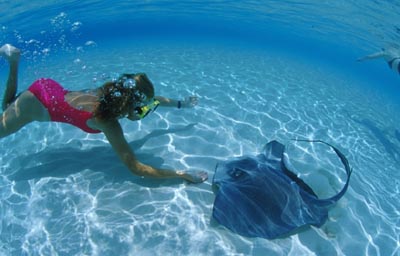 The underwater sight is striking. The water is full of all kinds of marine animals. Colorful coral reefs are found underwater giving a incredible experience.
Grand Cayman has a turtle farm which resides thousands of beautiful green turtles. You may photograph these turtles housing this place. Visit the Tortuga Rum Cake Factory and try the rum cakes. Pina Colada Rum Cake is suggested because of its distinctive taste.
Try visiting Georgetown. If you are looking for jewelry or souvenirs, you have come to the right place. Silver and gold pieces, black corals are present here. Try to bring a beach bag with you so you can carry souvenirs and jewelry you might want to bring back home. American dollars can be used on many of the shops but change you get is only in the currency of Grand Cayman.
You can end your day by walking beside the Seven Mile beach. Enjoy the romantic sunset and take pleasure at Grand Cayman.
You should remember the following tips for your safety and comfort:
You should keep in mind the safety measures before snorkeling or diving in the waters.
Snorkeling areas with smooth sands are difficult to find so be ready for rocky beaches.
In Grand Cayman you will have to walk a lot so you must have a pair of shoes with is comfortable for you.
"              It is one of the very famous places, so you must be prepared for seeing the crowds. There are some quiet places for you to stay but are far enough from the crowds.
Filed Under: Uncategorized
About the Author: Carl Tackett is a travel enthusiast. He has traveled to over 50 destinations all over the world. Currently, he is residing in England. He loves to write about traveling and helping fellow travelers.
Comments (0)