By Fred Goodson on Aug 05, 2010 with Comments 0
---
Shipping birds can be made to be less stressful by following some sensible advice from experienced shippers and adhering to the rules and regulations of the shippers who use new Container Hire services. What follows is an outline of how to avoid undue stress, accidents, loss, and/or injury to the birds that you want to ship. This is also a useful guide when buying a bird that needs to be shipped.
Obtain a health certificate for your bird signed by a veterinarian before the flight.
Call the airline you will be using to ship your bird to make reservations. Generally speaking, you will only need to book the flight a few days in advance. Be aware of the regulations regarding the birds that you ship. You must follow the package limits for the container you're using regarding the number of birds you ship in one package. In addition, each bird must weigh at least 6 ounces.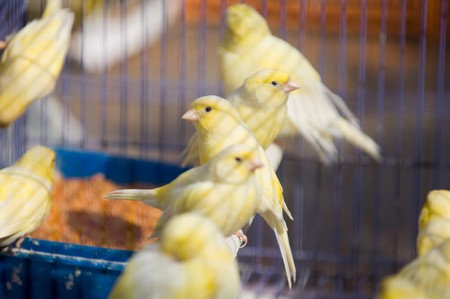 Choose a shipping container appropriate for the bird breed. Cockatoos and parrots can chew out of plastic containers, so you must ship these birds in a wire mesh or plywood container. The container must have enough slots for airflow and to permit inspectors to look for illicit goods. Line the bottom of the carrier with newspaper or crumpled then tamped down paper toweling so that the bird has a better foothold if it stays on the bottom. You might want to tape a thick piece of cardboard halfway up the front door if the weather is inclement or whether you are shipping babies.
Fill the bottom of the carrier with seed (and/or pellets if that is their diet). It works as a good bedding liner and gives them nourishment if they want to eat during the flight. Place cubes of juicy fruit in the container on the floor – grapes, apples, oranges, etc. This will provide the birds with liquids during the flight and any layovers.
Label the container for shipping. You must include care instructions for your bird in case of flight delay, and clearly mark the container with "LIVE BIRD". You should also add tags or other labels with your name and contact information, in case a problem arises. If the bird you are shipping bites, you should note this on the carrier to avoid injury to airport personnel who will be transporting her.
It is really nice when your pets are there with you, wherever you are. Observe the above said step and enjoy shipping your pet.
Filed Under: Pets & Animals
About the Author: Fred Goodson has a passion for pets and animals. He has 4 dogs and is planning to have another one. He is also a blogger who writes about pets and animals. Currently, he is living in New Jersey.
Comments (0)