By Roberta Southworth on Apr 07, 2010 with Comments 0
---
The new baby
Mothers of new babies are often given far too much clothing, most of which their babies rapidly outgrow. The rule is to keep clothing simple: avoid fussy garments; use flame-resistant fabrics where possible.
According to suit stores brisbane, vests with envelope necks slip easily over babies' heads. One-piece garments are practical and warm, but do not misunder­stand the term "stretch suit". This type of garment is intended to stretch only within the age range for which it is specified and will not grow with the baby.
Raglan sleeves make dressing and undress­ing easier. Lacy garments are best avoided as there is a danger of small fingers becoming trapped in holes. Draw-strings should also be avoided. Buttons should be securely fixed as loose ones can be swallowed or pushed into the nose or ears. If a baby is kicking vigorously, especially at night, with the result that he is cold and uncovered, a sleeping-bag outfit is very practical. Warm outdoor clothing in winter is essential, especially for the head, from which heat is lost rapidly.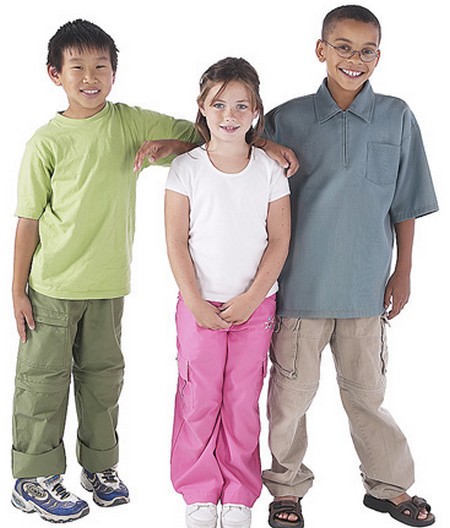 The older child
It is outside the scope of this article to discuss clothing for children in detail, but some general principles apply: clothing should be roomy, with wide armholes and plenty of legroom, lightweight while suitable for the time of the year. Tight bands and belts are best avoided: garments that fasten in the front make it easier for a child to learn how to dress himself. Stretch fabrics are practical and comfortable. Buying new clothes one size too big is a false economy: when they are new they do not fit properly, and by the time they fit they are wearing out.
Shoes
A young child does not need shoes until he is walking out of doors. Before this going barefoot will allow his feet to develop without damaging restriction, and give him a better sense of grip.
Shoes for everyday wear should preferably be made of leather and be at least 1.5cm longer than the child's foot. The front end should be very wide and rounded, not pointed. Lace-ups are best as they give most support, though well-made sandals are cool in warm weather. Proper fitting and checking of all shoes is essential.
Filed Under: Family & Relationships
About the Author: Roberta Southworth is a psychiatrist by profession. She likes to help out people by writing informative tips on how people can to solve their family and relationship issues. She is currently staying in Ireland. She has 5 years of couple counseling experience.
Comments (0)