By Alan Kennon on Oct 26, 2010 with Comments 0
---
It takes a lot of training to work as an expert pastry chef aside from the passion and natural talent. A pastry chef should have exemplary skills when it comes to baking and making pastries, breads, desserts and other baked goods. Most work in reputable restaurants, cafes and hotels. A pastry chef should also create and develop new recipes as well as do research about the latest trends and processes. For a pastry chef to be well equipped, he needs proper training.
Determine which interests you most and make a list of it. Do you obsess about baking rolls and breads? Do you prefer to work with chocolate and other confections and sweets? Many pastry schools offer various types of baking courses. When you have decided in what you want to specialize, look for and choose a pastry chef school that will sustain your need for training and additional knowledge.
You might have a favorite bakery or pastry store you regularly visit. Speak to the executive chef to gain more information about what school she attended. Take the opportunity to ask if she can give you a tour of her kitchen so you can get an idea of what a pastry kitchen looks like. Ask for more tips and pointers that might help you in your research.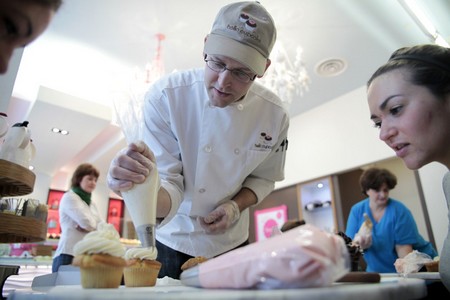 Contact and visit the schools you best match your interests and specialty as well as the executive chef's recommendation. Learn the school's reputation in the culinary world. Good schools should have experienced and credible chefs and teachers to train aspiring pastry chefs. These trainers must acquire people skills to communicate well with each student as they share their own expertise. You might want to inquire about internship opportunities so you can learn about the school's connections in the culinary world and the probability of getting a position after graduation.
Ask for a tour of the pastry chef school you visit. Check out their kitchens and classrooms. Do they use standard equipment like that used in a real pastry kitchen? Do they have state-of-the-art facilities for more effective training and learning experiences? Request to sit in and observe one of the classes. How many students are there per instructor? Determine as well how many hours you have to spend learning in a classroom or in the kitchen for actual lessons. You must know how many months or years it will take to finish the course.
List all your observations for your reference.
Study and compare your observations based on the list you have on your notes. From there, choose the best pastry chef school for your needs.
Filed Under: Lifestyle & Personality
About the Author: Alan Kennon lives a very happy life with two kids and a lovely wife. He likes to share his life time experiences with others about how they can improve their lifestyle and personality.
Comments (0)