By Ralph Crutcher on Feb 18, 2010 with Comments 0
---
Not all golfers wear gloves, but generally the better players do. Fred Couples, the 1992 U.S. Masters Champion is the exception to the rule. But if you have trouble holding the club or feel you are checking it to maintain control, you need a glove.
You will have a better grip of the club when wearing a glove, because it allows you to hold the club with a more relaxed grip, which in turn takes the tension from arms and shoulders and allows you to swing more freely. You also don't have to worry about letting the club slip when your hands perspire.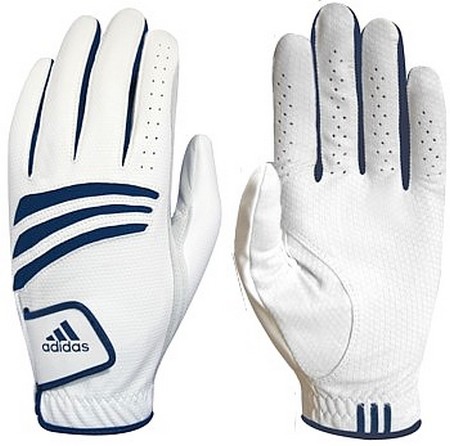 When purchasing gloves, you will find that the sizes differ greatly from one manufacturer to another even if they bear the same code numbers. Some provide for short, broad hands and fingers, but you must look a long time to find gloves with long, slender fingers.
Don't settle for anything that doesn't fit, and make sure that the fingers in the glove are as long and slender as the fingers on your hand. This is especially true for the thumb and index finger. If your fingers slip around in the glove, you lose your grip, and would be better off to play without a glove.
Leather
Despite its price, the leather glove is by far the most popular, as it provides a softer and more natural feel than the synthetic one. Leather gloves are available in different qualities, and since leather is a natural product, the quality may vary from glove to glove within a particular model.
Leather gloves are fashioned from calf, sheep, goat and even deer hide. While deer skin gloves are the finest and longest lasting, they are scarce and especially expensive. Cabretta, the goat hide, is the second best bet, both in quality and price. Calf hide is not as elastic as cabretta, it has to be cut thicker to withstand the pressure of the club in your hand, and the older the calf, the worse it gets.
The best golf gloves are very soft and thin to give the golfer a better feel. The thicker gloves have a tendency to tear sooner as they are made of a lesser quality leather. They are also more likely to turn hard and brittle from perspiration and rain.
Leather gloves suffer in bad weather. Today, however, many manufacturers treat the leather to repell moisture, increasing the glove's life span and playability. The better gloves now also come with elastic gussets on the back to ensure that they remain in place during play.
If you often play in a warm climate, you may want to look out for gloves with perforated fingers. The resulting air flow will keep your hands cooler and drier, and in turn lengthen the durability of your glove.
Another variety of leather glove shows an imprinted pattern on the palm to give a better grip. These may be worth a try. Some glovemakers even produce gloves with cut-off fingers presumably to allow for a better feel in the fingertips, but I could never figure out why some leather here and no leather there should improve something as subtle as feel.
When you purchase a leather glove, it should feel snug, even a little tight, when you first put it on. The leather will stretch to fit comfortably in good time.
To turn your leather glove into a good proposition in terms of value for money, you will have to take good care of it.
Synthetic
Synthetic gloves are designed for golf in bad weather and budget-conscious golfers. The synthetic material is long lasting and washable, doesn't absorb moisture and allows you to maintain a reasonable hold on the club in any condition.
However, there are problems with synthetic gloves. In damp conditions they become uncomfortable, they do not stretch to fit exactly like a leather glove, and because of the harsher fabric they don't offer as soft a feel as a leather glove.
Some manufacturers produce synthetic gloves with leather patches above the thumb pad to give a leather-like feel. But to me this seems to be a gimmick.
Filed Under: Sports & Fitness
About the Author: By profession, Ralph Crutcher is a swimmer but enjoys playing football, Golf, and regularly goes to the gym to keep himself fit and healthy. This is one of the reasons; he likes to write about sports and fitness.
Comments (0)