By Jason Prickett on Jan 24, 2010 with Comments 0
---
There are three methods of securing strip flooring: 'secret nailing', adhesive and clips.
SECRET NAILING
This is a technique used when securing thick woodstrip flooring to an existing timber floor covered with hardboard or plywood sheeting or when using it to replace existing floorboards, if this isn't your style of wooden flooring, you could always go with something like laminate flooring. When the first row of strips is laid, 'lost head' nails are hammered in at an angle through the tongue into the floor below (or, when replacing floorboards, into the joists) and the nails then punched home. Drilling pilot holes for the nails will prevent damaging the tongues. When the next row is fitted, the nails will be hidden. The last row of strips cannot be secret nailed: it will have to be nailed through the surface (like conventional floorboards) and the nail holes filled to match the Garage Flooring. With secret nailing, wood adhesive should be used on the tongued-and-grooved joints at the ends of strips in the same row. When nailing woodstrip flooring to joists to replace floorboards, make sure that each board is cut so that it finishes in the middle of a joist.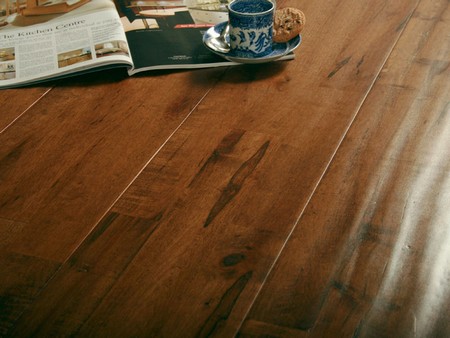 ADHESIVE
You would use adhesive when laying woodstrip flooring on a solid floor. With this method, the woodstrip flooring is not actually secured to the sub-floor but is, in effect 'floating'. Normal PVA woodworking adhesive is used along the grooves in one row of strips before they are pushed over the tongues of the previous row – the usual application is a thin line of adhesive 100-200 mm (4-8 in) long every 500 mm (20 in) along the board. For the last row, put adhesive along the whole groove. Adhesive also needs to be applied to the end tongued-and-grooved joints.
CLIPS
Some makes of woodstrip flooring have securing clips which fit into a special slot in the underside of each board to hold the boards together. The clip is hammered into place on the back of the first row of boards and will grip the second row when this is hammered gently into place. Adhesive should be used on the end joints, but not on the main joints, except for the last row of boards where adhesive should be used along the whole joint.
Filed Under: Home & Maintenance
About the Author: Jason Prickett loves to write about home maintenance and stuff you can do yourself instead of hiring any professional. His step by step guides will assist you in completing your home maintenance tasks.
Comments (0)