By Marie Mayle on Apr 28, 2010 with Comments 0
---
You can make enormous savings on your food bills. Simply changing where you shop can save you hundreds of pounds a year. There can be as much as £20 to £40 difference on a trolley of similar items bought from different supermarkets in one week in my area. Worked out over a year, that could amount to as much as £2,080 saved, depending on where I shop.
Where do you do the bulk of your food shopping? It's time to find out which shops in your area offer the most competitive prices. Try this exercise and see for yourself. Make a list of the items you buy every week, such as bread, milk, butter or margarine, cooking oil, potatoes and other vegetables, fruit, eggs and so on. It is not necessary to keep to the quantities suggested here, but once you have decided on a quantity and size, you should stick to it in each shop. You should also keep to the same brand or compare equivalent own-brand items between your chosen shops. In that way, you will be able to compare like for like. You don't need to list everything you buy each week, but the more items you include.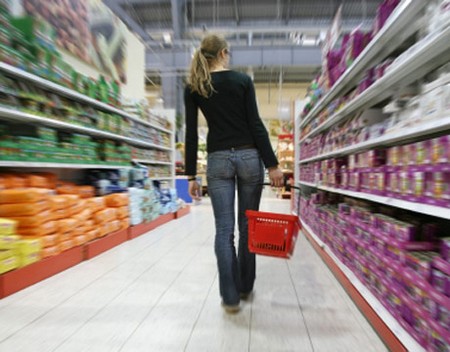 When you have your list ready, choose four different shops or supermarkets. Try to pick at least one shop or supermarket that you believe to be the cheapest, even if it's a little further away than the shop you usually use. Also ask your friends and neighbours which ones they use and/or believe to be the cheapest. Make sure you include the shop you normally use. Then take your chart to each of the four shops and mark on it the prices charged by each one. When you have finished, add up each column and write the totals in the spaces provided. Then compare the figures. You may be very surprised at the differences between them. Only in this way can you be sure you are getting the best deal.
If you are used to shopping at an expensive shop, you may feel concerned about the quality of food available at a cheaper shop. Let me reassure you here. If you shop at any one of the major supermarkets, you can be sure that their products will come up to an acceptable standard. Some food items do vary, of course, such as fresh fruit and vegetables, and you may find that you prefer the apples from one particular supermarket. If you find that the fresh fruit and vegetables are not as good from the cheaper store, or go off too quickly, then by all means buy them from your preferred source. That doesn't have to stop you buying other products from the cheaper store, however. Brand name items will be of a similar quality everywhere, so your tin of Heinz baked beans will be of the same quality whether you buy it from the most expensive shop or from the cheapest one. Products such as toilet rolls, kitchen foil, tissues and cleaning products will all be of an acceptable quality in the cheaper shop. Many supermarkets' 'own brand' items, such as tinned tomatoes, are good too. In fact, in some cases, these own brand products may actually be the same products as the branded ones, but just packaged differently and sold at a lower price. You can also use internet comparison tables, such as www.trollydolly.co.uk, to help you cut your shopping costs, but use these with care, since relevant information featured on these sites may be limited. Always back up your research by visiting the shops in person.
Remember that buying ready-made meals will really push up your food costs. Although they are convenient, they are very expensive and often not even satisfying. They may be full of artificial additives too. Next time you are out shopping, try to avoid buying these items. Opt instead for fresh ingredients you can prepare yourself. Preparing and cooking fresh, simple meals need not be time-consuming, and it can save you a fortune over a year. There are many good cookbooks available to give you ideas for delicious meals that are quick to make and easy on your budget. If you can't afford to buy books, try your local library. Supermarkets also give away free printed recipe cards from time to time.
Filed Under: Uncategorized
About the Author: Marie Mayle is a contributor to the MegaHowTo team, writer, and entrepreneur based in California USA. She holds a degree in Business Administration. She loves to write about business and finance issues and how to tackle them.
Comments (0)