By Marie Mayle on Nov 04, 2010 with Comments 0
---
If you have dreamed of running your own pizza restaurant, you will need to know about important keys to success other than just having an exceptional pizza recipe. For instance, you must have a work ethic and adequate business knowledge. Pizza shops face a high level of competition, so you need to accurately plan your marketing and services as well as offer an exceptional dining experience for customers to keep them coming back.
Learn the business. Create a business plan and outline every aspect of the business. Carefully detail the needed start-up costs, including the necessary equipment and location. A good business plan proves a key component in order for the business to run successfully. If you need financing, a well-constructed and precise business plan will impress potential investor and encourage them to offer capital.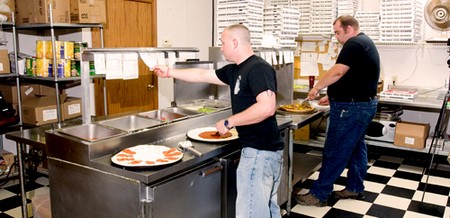 Have a signage installed by a business sign shop. Choose a name for the pizza shop and design its logo. Decide on the type of pizza you want offer. Research your local market and know the competition. For instance, if only a few serve deep-dish pizza you could consider going that route. Analyze your local market carefully.
Find a location to set up the pizza shop. The location should have heavy foot traffic and public visibility. If you plan to offer take-out, make sure the area has enough parking spaces. Check around for local buildings or store fronts you can rent or buy. You choice of location will make or break the business.
Contact your local city or town hall and secure all license, permits and inspections related to food health issues before opening the restaurant.
Hire the right staff. Ensure your chef and kitchen staff knows the specifics of making the pizzas. You will need a wait staff and a delivery driver if you offer delivery services. Hire reliable employees with friendly customer service demeanors.
Once you have found a perfect location, decide on your restaurant's ambiance. Choose a theme for the pizza house to give it its own identity. If you offer gourmet pizza, make sure the shop's interior reflects as much. Scan food magazines and search the Internet for different interior ideas for pizza shops.
Purchase all necessary equipment. You will need to invest in a pizza oven or brick oven, depending on your pizza shop's concept (you can check out our complete guide to the best wood pellet pizza oven here). Purchase a refrigerator and other equipment needed to prepare pizza.
Secure a reliable supplier. Ensure the freshness of all ingredients you use. The quality of taste of your pizza will prove vital if you want to bring back customers. Find local farmers and make transactions with them. You will also need to have drinks, pizza condiments and utensils. Ensure suppliers offer both good value and reliability.
Promote the pizza shop and offer free pizza delivery. Advertise in local newspapers and distribute flyers with free coupons. Get the public's awareness about your new pizza shop and create buzz about it.
Filed Under: General How To's
About the Author: Marie Mayle is a contributor to the MegaHowTo team, writer, and entrepreneur based in California USA. She holds a degree in Business Administration. She loves to write about business and finance issues and how to tackle them.
Comments (0)