By Jason Prickett on Dec 08, 2009 with Comments 0
---
To get the best results from paint or varnish, it should be applied to an even surface which has been very slightly roughened. The process of providing this even surface is known as rubbing down. The usual method is to use an abrasive paper, either by hand or fitted to a mechanical sander. You rub down a surface when you are painting over sound old paintwork, between applying coats of polyurethanc varnish and when you are preparing bare woodwork cither new wood or old woodwork which has been stripped and rinsed.
Abrasive papers
Old paintwork used to be rubbed down with either a pumice stone or glass-paper (sometimes called sandpaper). The pumice, and to some extent the glass-paper, have now been replaced by more modern abrasive papers, such as aluminium oxide paper and waterproof silicon carbide paper (often called by its trade name Wet or Dry). Both of these papers last longer and clog less than sandpaper but are more expensive. Waterproof silicon carbide paper can be used dry but is more often used wet the surface being abraded and the paper must be kept wet to reduce clogging. When it is used like this, waterproof silicon carbide paper lasts for a very long lime, but the abraded particles remain stuck to the abraded surface and have to be removed by thorough washing down.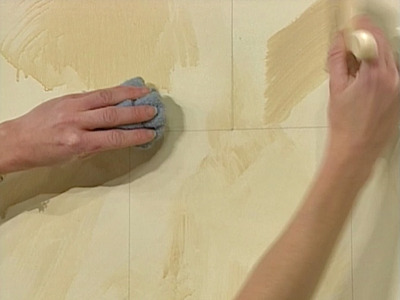 Sandpaper is, however, still widely available and is cheap and easy to use. A more durable type is known as garnet paper, which is coloured dark red and is ideal for wood finishing, especially in its finer grades.
For sanding down painted metal surfaces, emery paper is available with a cloth or paper backing in a range of grades. The cloth-backed type is ideal for cleaning pipes.
Abrasive papers are normally sold in sheets measuring 280 x 230mm with the grade (coarseness) or grit size marked on the back. They can also be bought in shapes suitable for disc and orbital sanders but a standard-size sheet can be cut to give two or three bits for an orbital sander. Most abrasive papers are sold in three grades, coarse, medium and fine (sometimes superfine). If the surface is in poor condition, start by using a coarse grade of paper and finish with a line grade. You can buy assorted sets.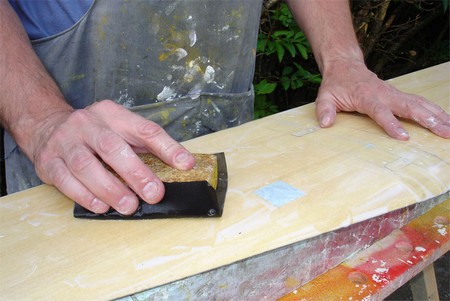 When rubbing down by hand, wrap the abrasive paper around a fiat block of cork, rubber or wood. This will ensure that the abrasive paper removes the high spots, dirt particles and so on and will produce a flat finish. An alternative to using abrasive paper is the sanding block. A number of different types are available with either aluminium oxide or tungsten carbide particles.
As well as mechanical sanders for stripping paint and rubbing down, you can get abrasive nylon brushes which lit into the chuck of an electric drill. Available in medium and coarse grades and as cup brushes or flap wheels, these have the advantage over metal wire brushes that they will not scratch the surface. As well as cleaning up wood, they can be used for metal and masonry.
Filed Under: Home & Maintenance
About the Author: Jason Prickett loves to write about home maintenance and stuff you can do yourself instead of hiring any professional. His step by step guides will assist you in completing your home maintenance tasks.
Comments (0)