By Jason Prickett on Jun 26, 2010 with Comments 0
---
Fishing is always one of the most interesting activity that one experience in nature by the calm water Passovers. It is purely based on the area and the choice of fish that one traces out. It has always been a hobby for many of the people. It results in problem in the case of the older fishing rod being used. Catching up fishes of your choice purely depends upon the selection of baits which those fish are interested with in around the area of fishing. By doing so the chances of obtaining the fish of one's choice gets raised up. For new fish catchers here are some numbers of fish, which like grubs and flies.
Quite often we find the broken fishing poles as we shift the home or clean the entire store room like cleaning it. The pole top might have been damaged at any occasion when it is kept at the back door and it's made to shut down. It doesn't mean that it's the entire end for fishing. Anyone can repair their broken fishing pole easily on their own at an affordable cost. This may be new for people who have not yet gone for it and it may be an experience for people who already tried it.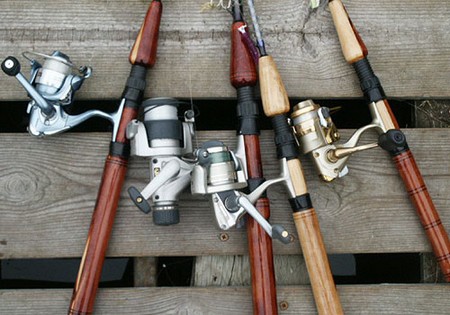 It mainly concerns with three main parts namely the guide, ferrule and the pole. The guide is nothing but the line through which the pole is threaded through it. The two pieces of the pole is being connected by means of ferrule. It can be replaced easily as in the case of the broken guide. The initial step is to remove the thread or the line holding the pole. Make the area to sand it lightly. Now just with the new one try replacing the old guide. A light medium coating of lacquer over the tied place of the thread is being done.
Make sure that replacing the guide doesn't costs much than getting it repaired. In such cases one may go for the alternative. Just by removing the damaged part as in the case when ferrule is broken, it can be easily replaced. Thus two pieces of ferrule is enough to join the fishing pole when it's being broken into two halves or when it gets broken at the tip. Always check whether it is clean, straight and smooth with cut made at both sections before when the ferrule is joined with.
Buying a new one surely costs more rather than to replace it with these sorts of alternatives. Now don't worry if it gets broken. Keep everything ready to make it all right. Enjoy fishing.
Filed Under: Home & Maintenance
About the Author: Jason Prickett loves to write about home maintenance and stuff you can do yourself instead of hiring any professional. His step by step guides will assist you in completing your home maintenance tasks.
Comments (0)