By Jason Prickett on Jan 11, 2010 with Comments 0
---
Problems with windows often go un­noticed until it is time to decorate. Then loose joints, rotten rails and rotten frames become all too obvious. Most window repairs are fairly simple and well within the capabilities of the average handyman. With major frame and sill repairs, it is best to take the frame out of the window opening, but some repairs can be effected on a temporary basis, at least with the frame in place.
Windows are fixed to the brickwork surrounding them in a number of ways: • with fixing cramps screwed to the window frame and buried into the mortar between the bricks
by building the 'horns' on the ends of the sill and frame head into the brick­work
by driving screws or nails into wooden plugs held between the bricks
by driving screws into plugged holes in the brickwork.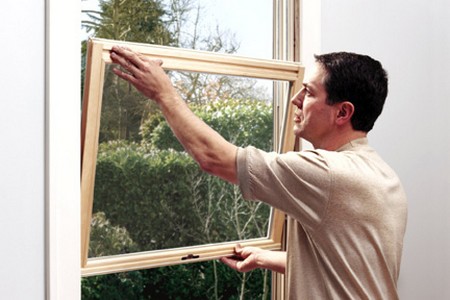 If you are taking the old frame out for repair, you will want to cause as little damage as possible to the old frame and should plan the job to take into account how you intend to replace it. When taking out an old frame to fit a new one, you can go about the job in a more vigorous and much quicker manner.
Unscrew any opening windows in the frame and reclaim any hinges and stays which you could possibly use again. Care­fully remove any glass in the fixed lights. You may be able to use this again too -for garden cloches at least.
Cut through the sill, transom and head of the frame twice. Make the cuts at an angle so that the material can be easily removed from between the jambs. It may be necessary to remove the window board while you are doing this. If you do not remove it, take care to avoid damaging the internal reveals (and the window board itself).
Use a crowbar carefully to lever out the jambs from the sides of the window open­ing and then clear away from the opening any loose mortar, projecting nails and plugs. The opening can now be covered over temporarily if necessary to await the fixing of the new frame. In many circumstances, a polythene sheet will provide satisfactory cover but when security is a problem use plywood.
Filed Under: Home & Maintenance
About the Author: Jason Prickett loves to write about home maintenance and stuff you can do yourself instead of hiring any professional. His step by step guides will assist you in completing your home maintenance tasks.
Comments (0)