By Jason Prickett on Jan 13, 2010 with Comments 0
---
Replacing a suspended floor with a solid one is generally a fairly straightforward job. However, if the depth of fill required exceeds about 600mm, or if there is a marked variation in the fill depth across the floor area, do not use a solid floor. If your house is on clay soil consult your local Building Control Officer before put­ting in a solid floor.
When the need arises to put a solid floor in a ground-floor room, it is a good idea to replace all the ground floors at the same time, even if the floors in other rooms are in good condition: otherwise the remaining area may need improved underfloor ventilation. Again, ask a surveyor or an expert at Total Floor Care.
Looking for stronger and more high-performance variants of epoxy flooring? Then this Epoxy Flooring Services here offers much more than epoxy flooring as well with materials such as concrete overlays, stamped concrete, as well as wood stamped concrete.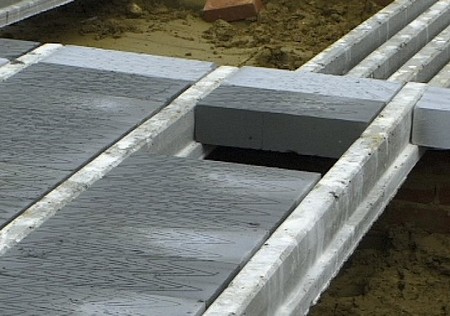 Laying the foundations
Remove all timber including wallplates and sills and break up any intermediate sleeper walls or supporting pillars. If there is any sign of organic growth on the underfloor soil, sterilise it with Jeyes fluid or something similar.
Check with water, gas and electricity authorities about any special treatment of underfloor service pipes: a gas pipe on the mains side of the meter, for example, is the property of British Gas. All water pipes and cables will have to be run in ducting or conduit.
Put in the fill material (hardcore) layer by layer and compact it thoroughly between layers. When using building rub­ble, bed each layer including the bottom one in a layer of hoggin: break up any large pieces with a sledgehammer to avoid leaving large air pockets. When the fill reaches the level required, break up any rough patches or sharp corners with a sledgehammer and then blind the sur­face with sand or hoggin.
Spread the damp-proof membrane sheeting carefully, smoothing out any wrinkles and lapping and taping joints. Carry the DPM sheeting well up the wall (il can be trimmed later) but make sure it is tucked well into corners; otherwise voids will be left when the slab is laid.
Laying the floor slab
Before starting the floor slab, mark out the level of the top at several points around the room. Unlike laying an out­door ground slab you will not be working to formwork, so you will need to check against these level references as you go.
Lay concrete in strips as wide as you can conveniently compact with a length of 50 x l00mm timber about 1200mm is a reasonable width. Spread the concrete with a rake to about 15mm above the desired level and tamp thoroughly. Start in the corners of the room, working around the walls first and then filling in the centre working towards a doorway. Check levels with a straight-edge and spirit level: ignore minor variations as they will be taken out by the screed. To install epoxy floor coating, Epoxy Flooring Spokane contractors apply multiple layers of epoxy resin to the concrete substrate floor at different thicknesses see https://www.epoxypro.com/resources .
As soon as the concrete has hardened enough to walk on (if you put a sheet of ply over the top of it you can walk on this after a few hours), brush the surface with a stiff broom while washing it down with a sprinkling rose on a watering can. This will remove fine material from the surface and leave it ready for a bonded screed. Cure the slab under plastic sheeting for three or four days.
Laying the screed
This last step is crucial to the success of the floor, so take care with it. The screed mix depends on the final floorcovering. For carpet, lino or vinyl floor tiles, use 1 part loose cement to 2-2/3 parts (clean, washed) damp concreting (sharp) sand. For rigid concrete terrazzo or quarry tiles, use 1 part loose cement to 3-1/3 parts damp concreting sand. Do not use brick­layers' (builders' or soft) sand. If possible, use a machine to mix the screed. When mixing by hand, make sure the materials are mixed dry at least three times before adding water: all the sand particles should be completely coaled with cement paste before use.;
Getting the water content right is the crucial step in preparing a good screed mix: if it is too wet, the levels will be diffi­cult to control; if it is too dry, it will be impossible to compact the screed suffi­ciently. To check the mix, press a ball of it in your hand. With a good mix only a drop or two of water will be squeezed out and the mix should hold together in a ball when your hand is opened again – it should not crumble.
To bond the screed to the main floor slab, the surface of the slab must be absolutely clean. If the slab was not roughened by brushing it before it hardened (as described above) it will have to be mechanically roughened to provide a key. Recheck levels and establish level references around the walls.
The first step in actually laying the screed is to dampen the floor with water and brush in a cement-water grout, about the consistency of double cream. A bond­ing compound (such as PVA) can be added to the grout.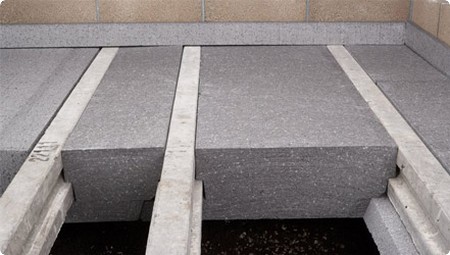 Do not grout too much of the floor at once – the area you can cover with the screed in twenty minutes is enough. Use a spirit level and straight-edge to set up screeding rails in strips of well-compacted screed mix: limber battens will do but lengths of angle or T-iron are better. Where electric cables or water pipes run across the room, these should be enclosed in conduit or ducting positioned in the screed.
Now spread the screeding material 5 to 7mm above the required level and tamp really thoroughly: use a flat-bottomed punner, a roller or a timber tamping beam. Be careful not to disturb the level of the screeding rails during compaction. When the screeding material has been thoroughly compacted, remove any excess material by moving the tamping beam in a sawing motion across the screeding rails. If there is no excess, you have used too little screed; add more material, com­pact and strike off again. If you think you need professional help, do not hesitate to hire Concrete services in Lincoln, RI.
Finish the surface with a wood float as you proceed. Remove the screeding rails as the work advances, filling in the depressions with well-compacted and floated screed material. Work in strips around the room, but remember to end up near the door out of the room.
As soon as the screed has hardened enough for you to walk on it, spread plastic sheeting over the surface and leave it in place for at least four days.
Filed Under: Home & Maintenance
About the Author: Jason Prickett loves to write about home maintenance and stuff you can do yourself instead of hiring any professional. His step by step guides will assist you in completing your home maintenance tasks.
Comments (0)