By Jason Prickett on Sep 20, 2010 with Comments 0
---
Are ready to give your interior design an over haul by removing your old, outdated wallpaper? Sometimes, a change in interior design can change the way you look and feel about your home or apartment. It can open up a living space and encourage you to redecorate the rest of your house.
Everyone has heard the disaster accounts of how difficult it is to take wallpaper down, right? Well, this do it yourself job does not have to be as hard as the stories say.
Here is how you can remove your old wallpaper without a bunch of hassle.
Read on for more information.
Necessary Items:
Utility Knife
Wallpaper
Sponges
Paint Roller
Screw Driver
Wallpaper Remover
Drop Cloth
Water
Towels
Buckets
4 inch Putty Knife
Trash Bags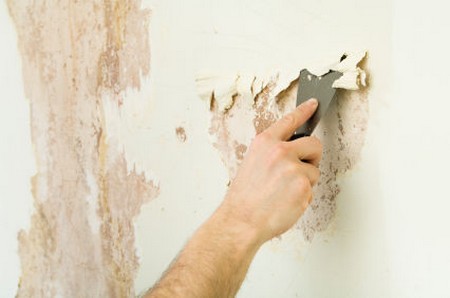 Step 1
Make a workspace. Remove all items from walls. Remove any furniture from the room you are working on. You may cover the furniture and place it in the middle of the room if you don't wish to remove it totally.
Step 2
Take your putty knife and begin at the corners of the wallpaper. Begin to peel the wallpaper back at a 45 degree angle, slowly. Some wallpaper may remove this way in complete sheets. However, if you notice the wallpaper comes off in small bits, that is an indication you'll need water and/or chemical help.
Step 3
Place your drop cloth over the floor in your work area. Score all the wallpaper using the scoring tool or your sharp utility knife. The scoring tool is the safest to use because it will help prevent any cutting into the actual drywall.
Step 4
Wet the wallpaper using a sponge. Use warm water and do this in sections. The water is breaking the adhesive bond allowing the paper to come off easier.
Step 5
Resume taking the wallpaper off the wall. Slowly, peel at a 45 degree angle. Help the wallpaper off with a putty knife as you move along.
Step 6
If you wallpaper isn't too old and stubborn, these steps should help. However, if you run across pieces you just can't remove, just use a section of 80 grit sand paper. After you have sanded the spot, prime the place and continue on.
Step 7
Ensure that all the old wallpaper is take off. Now, allow all wall surfaces to dry and wash it with a water and TSP mixture. This will also assist in taking hard to get off wallpaper bits off. This will also remove adhesive. If you are sure you want to paint the area, be sure to prime it well. Then, apply any color of paint you want according to all instructions.
Filed Under: Home & Maintenance
About the Author: Jason Prickett loves to write about home maintenance and stuff you can do yourself instead of hiring any professional. His step by step guides will assist you in completing your home maintenance tasks.
Comments (0)