By Jason Prickett on May 24, 2010 with Comments 0
---
The way we are heading with technology and destruction of environment, even a small step like recycling candles can make a very big difference in the long run. This process can also prove to be very cost effective. Mostly, people have this notion that once a candle has been used up, the only thing left to do is to dump it. However, you can recycle and reuse any used up candle for the very same purpose while also giving it new scents. This can be done very easily by just following these steps:
Gather the candle wax. Begin with gathering all the hardened wax in a container and storing it there safely. If you have just used a very small portion of the candle, you can still recycle it if you want to. Any candle that has even a small burnable part left can be recycled well and good. Bring the used up candles and break their wax into tiny pieces to be used later on.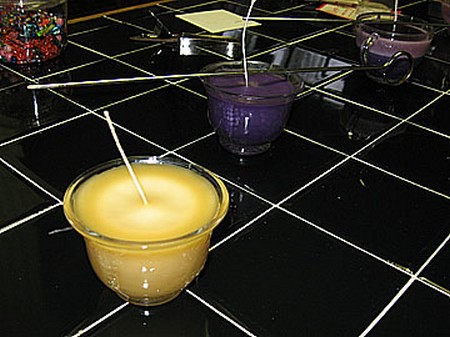 Shop a little bit. Next, you will have to visit your nearby local stores to do a little bit of shopping for the materials needed. First stop will be a local craft store or even a large grocery for candy flavoring, tea lights, as well as matches. You have a variety of scents like vanilla, peppermint, etc. to choose from for the candy flavoring. These scents may be expensive. Go to the local store for an oil burner also. If you fail to get one, then try a home décor store. Once you have all your raw materials, you need to move on to the trickier execution part.
Melt the wax. Your next step is to melt the wax that you had gathered and stored safely in a container. Put all the wax pieces in a microwave resistant container and heat them up in a microwave. A few seconds will be sufficient. When the wax has melted, take it from the microwave and spill it out on the well of the potpourri or oil burner. In case you do not own a microwave oven, you may use the oil burner for melting the wax as well. But this will take a longer time. You can even put the wax on a frying pan, heat it and melt it. Anyhow, once the wax is melted, the next step is indefinitely to pour the molten wax on the burner's well.
Put in the flavor. Immediately after you have poured the molten wax on the burner's well, add a few drops of candy flavoring and witness the flavoring mix with the wax. These will give out a scent when the tea lights heat the wax.
Introduce the tea lights. When all the above steps are done with, introduce the tea lights inside the burner. This will ensure that the wax is kept heated up while the scent fills the air. Along with this, it will also give rise to a warm, pretty glow in your room.
This is an innovative way of recycling candle wax. Its also fun and you will enjoy it.
Filed Under: Home & Maintenance
About the Author: Jason Prickett loves to write about home maintenance and stuff you can do yourself instead of hiring any professional. His step by step guides will assist you in completing your home maintenance tasks.
Comments (0)