By Vincent Carreno on Jun 26, 2010 with Comments 0
---
All the light motor and heavy motor vehicles use power steering. The power steering makes the driver to feel comfortable while driving the vehicle, at the same makes to steer the vehicle easily. To make operation of the steering system more effective and efficient, it is necessary to use the power steering fluid. This fluid is the combination of an additive and a base stock. If any malfunction happens in the power steering block it is necessary to flush the power steering fluid out. This article will give you the step-by-step instruction to flush out the steering fluid.
Take the car to an open space for your convenience to work with the car.
Now turn the engine off.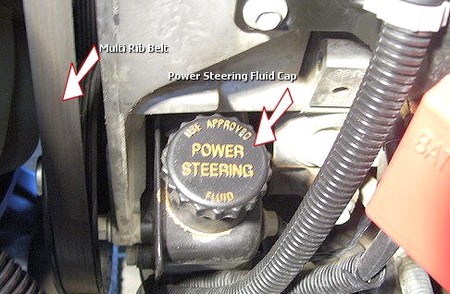 Wait for a while and then open the hood. Wait for some time so that the engine becomes cool. Secure the hood properly to work.
It's your turn to know clearly about the steering system of the car. You can see a filter on the top. In some models it's not visible, in such cases go through the owner's manual to find the filter.
To access the steering system, it is advisable to detach the radiator from your car. This will provide you with enough space to work with it. Keep the radiator nearby in order to replace it again.
Power steering reservoir has a hose in its bottom. Your work ids to detach it, it is a tough job to do since the hose is tightly connected.
Have another hose in your hand, at the moment you detach the reservoir hose, connect it with the spare hose you have. After attaching, send it to an empty container. This process will collect all the fluid in the reservoir.
Using your car jack raise the car from the ground. Do this from the front side of the car.
Now the reservoir is empty, it's your turn to pour the new steering fluid into the tank. Pour the fluid carefully.
Get into your car, hold your steering wheel and rotate it front and back. Do this for a while, this will give mobility and drain out the excess steering fluid in the car.
Now disconnect the hose attached and reattach the already unplugged hose, do this process with utmost care. Once you done this put the radiator in the needed position and give the necessary connections. Now close the car's hood.
Keep a note that proper maintenance of the car, makes it to run without any steering failure for 200,000 miles. Replace it when you cross this limit.
Further Readings:
Filed Under: Cars & Vehicles
About the Author: Vincent Carreno is a cars enthusiast who loves all things about cars and the automotive technology. He is also the chief editor at a local magazine which shares new, exciting and informative articles about troubleshooting car problems.
Comments (0)