By Fred Goodson on Jun 26, 2010 with Comments 0
---
If you can't find the perfect "made" pony, many people, have purchased a young pony and brought it along themselves, but this takes a pony with a special combination of breeding and temperament to be successful. It also requires a parent who has riding experience unless you have a trainer you trust who can train it for you.
Remember you are buying a mount for your child not to you. There are risks inherent in any sport and it's important to minimize those risks.  How that animal suits their needs is your primary concern. Be sure to buy a pony that comes from stock that are performers not just "halter" shown ponies that look good but perhaps may not be trainable.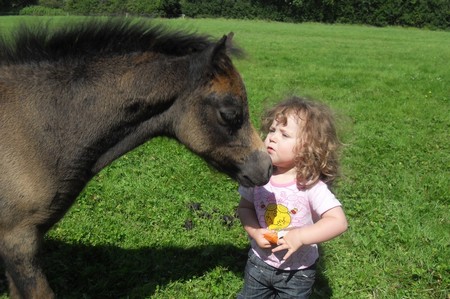 A child will have much more fun on and be much more secure on a smaller animal.  The more secure they feel the faster they will progress.  Remember even a small pony is going to have an advantage of hundreds of pounds on your child and that's a considerable advantage.  Also, the shorter the distance they have to fall the better. The small pony you buy today can always be sold to finance the medium pony of the future.
Once you have gained experience and knowledge of the industry, you will be ready to buy a pony of your own and will be armed with the information you need to buy and take care of one.  Also, you might learn to ride with your child so it becomes something you can do together.
Look for breeders/trainers who train and sell ponies to people like yourself.  If their ponies all go to professional handlers or other breeders it may be a sign that their ponies do not suit beginners.  Look for breeders who are producing their stock from ponies that their children rode or that they are showing in performance not just halter or breed classes.  Request references from the seller and check them.  A little research may save you a lot of headaches.
Sometimes children go in the ring with too much pony under them.  If your child can ride the pony outside the arena without fear of the pony misbehaving and becoming a danger to your child, they and you will be much more comfortable.
Don't wait until your child becomes disenchanted with riding to sell the pony and find a replacement
The major cost in owning a pony is not the original cost of buying the pony but rather the cost of maintaining it.
Finding a trainer that is good with ponies and children is all important.
Filed Under: Pets & Animals
About the Author: Fred Goodson has a passion for pets and animals. He has 4 dogs and is planning to have another one. He is also a blogger who writes about pets and animals. Currently, he is living in New Jersey.
Comments (0)