By Darlene Aronson on Jun 17, 2010 with Comments 0
---
You may think that addressing an envelope is just another work. Of course, but you must make sure that you have done every steps correctly, so as the letter will reach safely and correctly to the receiver whom you want. And one must learn how to address an envelope and how to post it properly, so that it will reach the right receiver at right time. Consider an engineering graduate mailing his resume with other details for a lecturer job in a reputed institution, suppose if have not addressed the envelope correctly, he will get lost in that job. If the letter reaches the institution later, it's of no use. Because they would have filled up for the vacancy position. And it will be ease if you follow these few steps to make sure that the mail will not be delayed because of your envelope.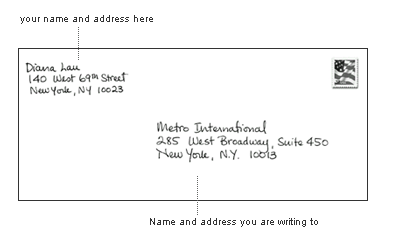 1. First step to follow is to get a right and neat cover for sending your letter. Try to get a slightly bigger envelope so that your letter after folds can be kept inside safer without any damages at its ends.
2. After this, go to front middle of envelope and write the address of the receiver whom you are sending the letter to. Put up the person's name on first line of it and in second line put up the designation and department, if any (for official letter only). Write down the house number and street separated by a comma and a space, beneath that. After that, write the receiver's city, state, country and the full zip code. And an example of how it should look like:
Receiver's name
Designation and department
Number, street name
City name
State name
Country name
Zip code – 000 000.
3. After ensuring that you have mentioned the receiver's details correctly and fully, now go to bottom left corner of the same side and write down your return address. And this about details of the sender. Write your name in the first line and your house number, street name in second line. After that give the city, state and full zip code. Do mention your contact number (for official letter only). Avoid commas while writing up, because it may slow your mail while processing. And your return address must be like this:
Sender's name
Number, street name
City name
State name
Country name
Zip code – 000 000
Contact number – 111 111 1111
4. After entering all the details, seal the envelope and stamp of correct postage amount in the upper right corner. And always use ball point pen for writing all those and avoid ink pen so as to make sure that all the details appear legibly without any strains. That's it, now post your letter in nearest post box.
Filed Under: Education & Training
About the Author: Darlene Aronson holds a degree in English literature and is a college teacher in Texas, USA. She likes to help others by sharing her experiences in education and training field. She has written for many blogs as well as local magazines.
Comments (0)