By Roberta Southworth on Nov 30, 2010 with Comments 0
---
You will always find a variation of healthy snacks from which to choose in giving snacks to your children for school, travel or to tide them over between meals. Don't take healthy snacks for granted, as they prove instrumental in providing your children with energy to last them until their next meal. Also, the inclusion of healthy snacks in a child's diet enables them to develop good eating habits that will aid them for life.
1. Fruits serve as very good snack options for your children, especially popular fruit snacks such as orange and apple slices. Other snacks you can give your children include blueberries, grapes or strawberries, which work well as snacks on the go because they're bite-sized. Bananas serve as good snacks of choice since they have their own natural and biodegradable packaging. A new twist for snacking on fruits involves freezing them. Frozen blueberries, grapes and melons can delight your young ones on hot and humid days.
2. Another healthy to go snacks includes mini-boxes of dry cereals. Large-piece cereals typically emerge as healthier than the small ones. Cereals offer good snack options because they are baked and not fried. When choosing cereals as snacks for your children on road trips, bring along some small cups so your kids can enjoy them in their seat at anytime. Cereals are prove very convenient to take with you because of their simple packaging and easy to clean-up afterwards.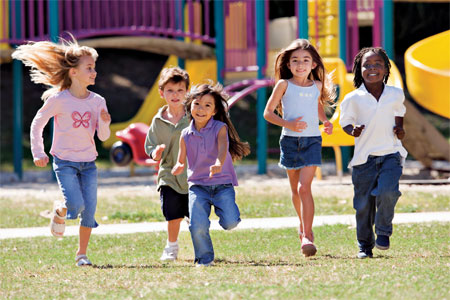 3. If you want to provide your children with healthy carbohydrates, consider offering a snack of tortillas or whole grain mini bagels. Carbohydrates give your child energy. These snacks prove ideal for a high-activity day such as one spent swimming or playing ball. Also, carbohydrate-packed snacks offer better choices if the child will have to wait a long time between meals.
4. If you think your children don't eat enough vegetables, you can encourage them to eat such by introducing these healthy greens as snacks. Celery and cucumbers make good choices for vegetable snacks. Carrots and avocados also offer nice options since kids can eat them raw. Mix these vegetables up until you figure out which ones your child prefers. To make these vegetables more desirable to eat, you can provide dressings or dips such as ranch dressings, vegetable dips or peanut butter. However, examine the contents of the dressings or dips you give to your children. Try to avoid those with trans fats.
5. Junk foods prove very attractive to kids. Rice cakes present a healthier option. Since rice cakes generally contain high carbohydrate rates, they can prove very filling. If necessary, you can also go for flavored rice cakes or rice crisps—although these prove less healthy than the basic rice cake. Nonetheless, they still provide better options than corn or potato chips.
Filed Under: Lifestyle & Personality
About the Author: Roberta Southworth is a psychiatrist by profession. She likes to help out people by writing informative tips on how people can to solve their family and relationship issues. She is currently staying in Ireland. She has 5 years of couple counseling experience.
Comments (0)