By Alan Kennon on Oct 26, 2010 with Comments 0
---
If you have as your first love creating the most scrumptious and heavenly cakes that make your friends crave more, or if you love the process of mixing and baking while imagining how the finished product will taste and look when complete your cooking of a special dessert, then you might have the talent and passion to work as a pastry chef. The demand for this profession remains high because of its unique nature. Should you decide to pursue a career as a pastry chef, consider the following tips.
Before jumping into a decision to become a pastry chef, study and research first the scope of responsibility of this profession. The job responsibilities of a pastry chef involve running and managing the kitchen workforce in baking, decorating, ordering high quality supplies and general organization. It takes a lot of work and skill to ensure perfect and standardized pastry food. The Professional Pastry Chef: Fundamentals of Baking and Pastry, 4th Edition by Bo Friberg will give you more ideas and knowledge about baking and pastry preparation.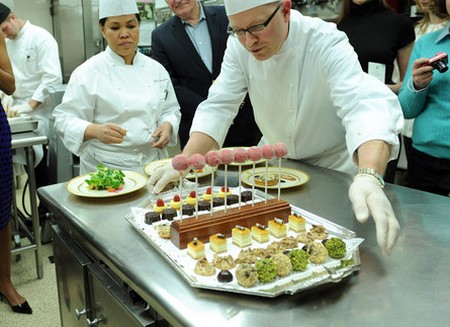 Determine the best school for you. Consider the finest schools in Europe. Check Shaws's Guide to Cooking School, published every year, for the most recently updated list of pastry schools. You can also check it online for more and detailed information.
Gaining broad experience as early as you can will prove rewarding in your career. If attending a culinary school poses a challenge for you, try seeking a part-time cooking class in a local university or college. Learn everything about the basics and practice at home. Practice will make you adept in this field and give you an opportunity to experiment and create your own pastry goods.
Offer your service by contacting a reputable restaurant and inquiring as to whether they can accept an apprentice. Most of these establishments will choose highly qualified pastry chefs, but some welcome trainees and will agree for a stumpy return while studying. To accomplish this, speak to the pastry head and discuss your desire. The decision to hire an apprentice will lie in the hands of the pastry head.
You might want to opt for a home-based pasty chef career. Register for a specialized class in your community. Cake decoration and candy making go hand in hand with a pastry chef's specialties. You can contact hobby stores and wedding coordinators who might recommend special classes or training programs that will suit your needs.
Research and know the needs in the market for pastry products, which will give you an idea of how high the demand is for pastry chefs.
Filed Under: Work & Careers
About the Author: Alan Kennon lives a very happy life with two kids and a lovely wife. He likes to share his life time experiences with others about how they can improve their lifestyle and personality.
Comments (0)