By Jason Prickett on Mar 19, 2010 with Comments 0
---
How you approach a tiling job depends very much on the type of tiles to be used and the surface they are to be laid on. Putting ceramic tiles up on a wall, for instance, is quite different from laying vinyl tiles on a floor, while laying quarry tiles on a floor is equally different from putting cork tiling on a wall. The specific instructions and advice on the different materials is given in the relevant sections on Tiling Walls and Tiling Floors, but there are some general points which are covered here.
TOOLS AND EQUIPMENT
The photograph shows some of the tools you need for tiling – most of these are for ceramic tiling, the most popular job.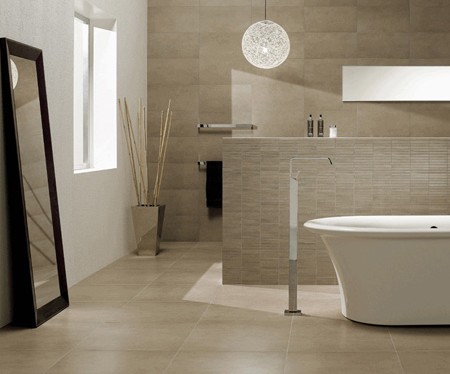 Tile cutters
Many tiles (such as vinyl, lino and cork) can be cut with a sharp trimming knife. For the harder tiles, however, a special tile cutter is needed. Ceramic wall tiles can he cut by scoring the surface and then using a tile snapper (1), which breaks the tile along the scored line. These come in different versions – heavy-duty metal snappers and light-duty plastic varieties. For ceramic floor tiles and quarry tiles, you will need to hire or buy a tile cutting machine (2), which will avoid breaking tiles. For cutting mirror tiles, you will need a glass cutter.
3. Tile saw
For cutting awkward shapes out of ceramic tiles, a tile saw has a thin circular abrasive blade. Ii is slow work and any attempt to force the cut will break the blade, but this is the best tool for cutting out notches for the ends of windowsills and I.-shapes to fit around electric sockets.
4. Abrasive paper
For smoothing the cut edges of ceramic tiles, silicon carbide abrasive paper can be used, Alternatives are a tile file, and a carborundum block.
5. Pliers
These can be used to 'nibble' away pieces of ceramic tile when, for example, a cut is made close to the edge and the tile cannot be snapped. Pincers could also be used for this.
6. Edging strip
A neat way of finishing off the edge of ceramic tiling.
7 Adhesive spreader
Often supplied with the adhesive for floor and wall tiles, the spreader has notches in it to leave ridges of adhesive on the wall or floor. This example has a squeegee blade on the far side,
8 Squeegee
Used for applying grout to ceramic tiled surfaces. The flexible rubber blade will push the grout into the gaps between tiles and wipe excess grout off the surface. The heavy-duty squeegee shown here would be hard work to use on ceramic wall tiling, but is ideal for use with quarry tiles.
ESTIMATING AND SETTING OUT
In order to work out how many tiles you need to cover a particular floor or section of wall, you need to know the area (in square metres or feet) that you want to cover. This can be calculated simply by multiplying the width by the length. For floors with alcoves, add in the areas of the alcove separately; for bathrooms with vanity units, subtract the floor area taken up by the unit.
Then, if you know the size of each tile, you can work out its area allowing for one grouting gap of 2 mm on each dimension of a ceramic tile and 6 mm on each dimension of a quarry floor tile. Divide the area to be tiled by the area of one tile to give you the amount needed. To this you should add 5 per cent to allow for breakages and wastage.
Some packs of tiles helpfully give details of the area that a whole pack will cover; tubs of adhesive and grout will also give the area that they will cover.
Always work out how the tiles will fall, so you can see whether to have one slightly smaller tile at one edge or two considerably smaller tiles at both edges – you will not normally want to have edge tiles less than a half of a tile's width.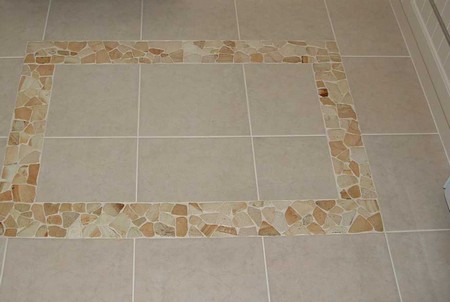 Floor tiles can be laid out 'dry' – that is, without any adhesive – to check the layout, but for wall tiles it is a good idea to use a 'gauging stick'. This is simply a length of wood, with a series of marks representing the spacing of tiles (allowing for grouting where required). By holding this against the wall, you can see exactly how many tiles you will need for the length and the width and where the short tiles will fall. As a piece of wood has four edges (two on each side), you could mark out four different tile widths on it – say 108 mm, 150 mm (6 in), 200 mm (8 in) and 300 mm (12 in). The diagram below shows how a gauging stick can be used.
PREPARING THE SURFACES
All surfaces which are to be tiled need to be sound, dry and flat (and, in the case of floors, level). How flat they need to be depends on the type of tile to be laid. Quarry tiles, for instance, are laid on a fairly thick bed of cement-based adhesive which can cope with minor irregularities in a solid floor surface. On the other hand, thin cork tiles need a very flat surface as they will show any irregularities. The flattest surface of all is needed for mirror tiles where the reflection will show the slightest bump.
Filed Under: Home & Maintenance
About the Author: Jason Prickett loves to write about home maintenance and stuff you can do yourself instead of hiring any professional. His step by step guides will assist you in completing your home maintenance tasks.
Comments (0)