By Roberta Southworth on May 29, 2010 with Comments 0
---
If you are a babysitter, you must have realized that kids get tired of things very easily. They always want to try something new, things they've never seen or done before. Hence, if you are a babysitter, you have got to be creative as well as prepared with a babysitting kit. A babysitting kit is a kit that consists of anything and everything that can keep a kid busy and happy. Some guidelines to prepare a babysitting kit are:
Start by obtaining a babysitting bag. First and foremost, get yourself a bag that will contain all the babysitting stuff. Go in for a rucksack or a carryall or whichever bag you are comfortable with. It should be big enough to allow you to keep all you stuff. Try to get yourself a bag that has decoration that attracts the attention of the kids. You may put up some stickers on it. You may dye a canvas bag if you have one. Try to make the bag lively and vibrant so that the kids find it very attractive and should be curious to know what it contains.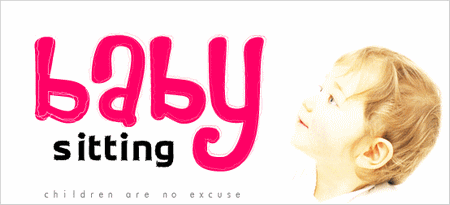 Include coloring books and some tools. Including some coloring books in your babysitting bag is a very effective way to keep the kids engaged. Coloring books or tools are easily available in a local store. In case your budget is low, you can download coloring pictures from the Internet. Wax crayons, pencil colors, sketch pens don't have to be brand new. You may ask you nieces or nephews for their pre-used coloring tools or spare ones and put them inside adorable boxes to make them appealing enough.
Include some materials of art and craft. The idea of some art and craft work is a very fascinating one for the kids. You should be ready with art and craft patterns and have some ideas, which you can easily get on the Internet. The basic art and craft tools like paper, glue, a pair of scissors should be also handy in your babysitting kit. Add-ons like cotton, buttons, studs, strings, etc. will also be needed. All these tools should be kept separately in different boxes or pouches subject to their use.
Put in some soft toys. Kids adore their toys, but love equally well to play with toys that are new to them. Your babysitting kit should include some old or new toys including these new scalextric Games. However, your toys should be suitable for the kid's age you are babysitting. For babysitting toddlers or kids attending pre-school, go in for some block-building toys or stuffed toys like dolls. In case the kids are older, board games might also be well suited. The toys that you bring should not contain any harmful contents. If you are unsure about what to get, you can ask the parents what sort of toys are allowed.
Bring in some music CDs. Whatever fun activity the kids are at, they would love to be accompanied by some fun music. So include some music CDs for the kids in your babysitting kit. For small kids, nursery rhymes would be very appropriate. Kiddie music is also adorable as it is easy to sing along and to dance on. If you can afford it, get some video CDs as well. You can make the kids watch some kid movies or educational videos. But before doing this, don't forget to seek the approval of the parents.
Keep a notebook handy. You must also keep a notebook handy in the babysitting kit. Use this notebook to jot down any instructions that the parents give and you are likely to forget, the kid's name, any allergies, medicines to be given to the kid, etc.
Filed Under: Family & Relationships
About the Author: Roberta Southworth is a psychiatrist by profession. She likes to help out people by writing informative tips on how people can to solve their family and relationship issues. She is currently staying in Ireland. She has 5 years of couple counseling experience.
Comments (0)