By Cody Riffel on Apr 14, 2010 with Comments 0
---
There are many factors that need to be considered when planning a diving trip. These include who is going, how much time you have and how far you are prepared to travel. You also need to think about your underwater interests, the other activities that might be available, what time of year you are going and how much you can afford to spend.
What type of holiday?
If you have only a weekend to spare, you'll need to dive somewhere close to home. If you have a month to spend diving, you can go much farther away. If it's a family holiday, you'll have to think of the activities that non-divers can do while you're diving. If you have children, it will need to be at a location suitable for their needs, especially if your children want to try diving.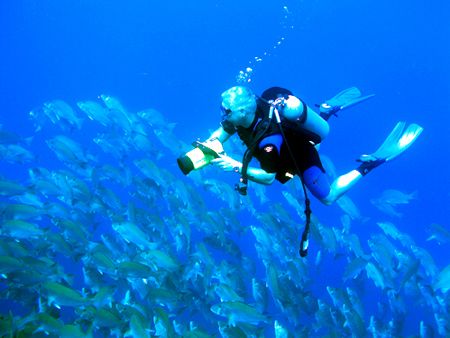 If you are travelling alone or with a diving partner, a holiday on a live-aboard vessel will allow you to dive all day and sometimes at night. But, if you have a non-diving spouse, this is probably not a good idea.
Some destinations look idyllic in the brochures but involve a long, complicated journey, sometimes with parts of the trip in a small airplane. Other destinations allow you to shore dive directly off the beach. This often has the benefit that you are away from your family for hardly more than an hour at one time. On the other hand, shore diving can involve strenuous walks across hot beaches while carrying heavy equipment. A number of locations provide boat diving, although a beach launch may not suit those that are less than robust.
It's not considered safe to fly within 24 hours of doing a leisure dive. This is because airliners operate with cabin air pressures lower than that of sea level. If you have only a week to spare, you'll have to bear this in mind. You may only get five days of diving on an eight-day trip. That may be plenty if you're on a live-aboard vessel because diving is almost all you'll be doing.
Other considerations
If your interest is mainly wreck diving, you may get bored looking at reef life on every dive. If you're main interest is marine life, you may find being stuck with wreck divers is not to your liking.
You should also check what time of year is best at your destination. Everywhere has definite seasons. Avoid going to the tropics in the rainy season, unless you do not mind torrential rain while you are on holiday.
The cost is obviously a major factor. You may be dreaming of a trip to Bikini Atoll, but may only have the budget for somewhere closer to home. You will discover that there is good diving to be had everywhere. If you do some research first, you will know what to expect.
Finding information
It is useful to look at articles in diving magazines and especially at the advertisements for specialised diving travel operators. You can then go to their web sites for more information. The bigger, independent diving web sites, such as divernet.com, contain lots of ideas and information. Best of all, speak to friends who have already been to a destination and ask their advice.
Filed Under: Sports & Fitness
About the Author: Cody Riffel is a regular contributor to MegaHowTo. She likes to write on variety of topics, whatever interests her. She also likes to share what she learns over the Internet and her day-to-day life.
Comments (0)