By Jason Prickett on Sep 20, 2010 with Comments 0
---
The most frustrating feeling in the world is to be on the other end of a locked door when you need to be inside. Locking keys, wallets and other valuable information in places is a very common occurrence and mistake. If you happen to lock yourself or your valuables inside, there is a quick and easy way to regain access. It will require some patience and a little bit of skill. Picking a lock is not as complicated as it may seem. However, I do recommend you contact professional from Locksmiths 365 to come and let you in, to make sure you don't accidentally damage the lock or render it no longer safe to use unknowingly. Here is how you can learn to do what the professionals do by yourself. Read on and find out how to pick a lock yourself and save a few bucks if you should ever need to pick a lock. Here is how.
Items You Will Need to Pick a Lock:
Step 1
Do some research about what type of locks you have to pick. Some locks that are in houses and used on lock sequences are called pin and tumbler types. This type of lock is comprised of one  cylinder that turn in the housing. It is secured in its position by pins.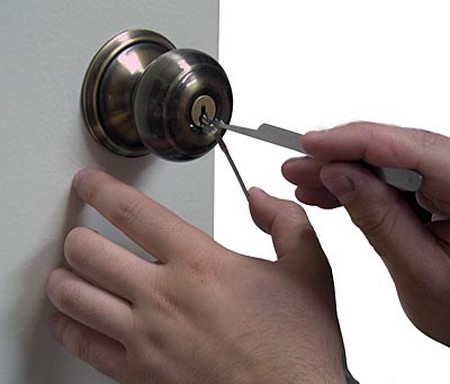 Step 2
Insert the torque wrench inside the lower portion of the key entry and rotate the wrench to determine which way you should turn in order to release it. When you twist the wrench but it stops, you need to turn it the opposite way.
Step 3
Put some pressure on the lock with the wrench and twist the locking mechanism in the proper direction and hold it there.
Step 4
Put the pick into the top of the keyhole and press the pins upward in the mechanism. You'll need to find the pin that is the hardest to manipulate. This could take a few minutes. Pay close attention to which pins give and which does not. Apply pressure as needed on the wrench.
Step 5
Apply pressure in an upward motion on the pin that is difficult to manipulate. This part is the main aspect to unlocking the mechanism. You will hear a small clicking sound as the locked gives. This sound is actually the pin being pushed out of the cylinder inside the lock.
Step 6
Repeat steps 4 and 5. You'll need to reset every pin in the lock.
Step 7
When you rotate the wrench the lock will come unlocked. If the cylinder is rotated the incorrect way you will need to start from the beginning. The pins will still need to be reset.
Filed Under: General How To's • Home & Maintenance
About the Author: Jason Prickett loves to write about home maintenance and stuff you can do yourself instead of hiring any professional. His step by step guides will assist you in completing your home maintenance tasks.
Comments (0)