By Jason Prickett on Jan 13, 2010 with Comments 0
---
For raw wood, especially hardwoods, the penetrating stains or dyes are a better bet than pigmented stains. They are most commonly found on the market in an oil (naphtha) medium, whose solvent is white spirit. They are absorbed more evenly because they penetrate deeper into the wood, but, because of their penetration, it is more difficult to cure the common overlapping and splashing problems.
They also come in a range of proprietary wood col­ours, which can be mixed easily. These colours are very strong, and a mere hint of, say, black will darken a light shade considerably. Do not be tempted to mix two manufacturers' products together, even if they are both oil-based, because the other ingredients might not be compatible. Similarly, the colours themselves, though they might have the same name, differ in shade from brand to brand.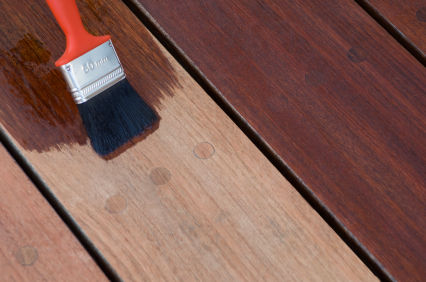 These stains are light-fast and give good, clear tones which do not obscure or obliterate the grain, but oil-based products absorbed into the wood do present the problem of 'bleeding' or 'striking through' the top fin­ish, which, especially if it is varnish or polyurethane, will dissolve the medium and loosen the colour. Avoid this by applying a thin sealing coat of top finish and rubbing it back before you start the finish proper, and minimize it by rubbing the stained surface when it is dry with a clean cloth to remove the surplus dye.
It is best to use a rag to apply these stains, because it has a more even initial spread than a brush. Try to work across a surface so that only one edge is at its dampest ('live'); this gives you the best chance of blending. If you get a splash or drip, wipe it out as thin as possible immediately. If you do get unevenness, a careful applica­tion of the solvent will allow a bit of 'blendability', but only when it is not really dry and deeply absorbed. Once it is, the only solution is to sand the surface heavi­ly to remove the top colour, then apply another coat. Semi-seal a surface that you know will probably absorb unevenly with a thin wash of top coat before you apply the stain: equal parts of raw linseed oil and white spirit make a good inhibiter for pine.
Penetrating stains and dyes are also available in aniline powder form, soluble in water, oil or methylated spirits. These give you greater flexibility and range of colour, but you will have to go to the trade houses to get them. They are old-style professional products, more relevant to restoration than production, and do demand an experienced touch. The spirit (meths) ani­line stains dry in minutes and have to be applied with great skill.
Remember that you do not have to stick to wood-oriented products. Cold water fabric dyes dissolve well, and give you access to a whole range of startling col­ours, if you feel so inclined; shoe polish, applied like wax, is also very effective.
Filed Under: Home & Maintenance
About the Author: Jason Prickett loves to write about home maintenance and stuff you can do yourself instead of hiring any professional. His step by step guides will assist you in completing your home maintenance tasks.
Comments (0)