By Jason Prickett on Dec 08, 2009 with Comments 0
---
Wash the window frame well, opening it to reach all the mating or sliding surfaces, and make good all defects in the wood or metal. Cracked, crumbling or broken putty should be removed with a scraping knife or an old chisel, the area primed and new putty applied. Unscrew all fastenings and make sure they are in good order and ready for refilling when the paint is dry.
The drawings show the order of painting a casement window and sash windows in Leamington Spa, UK. Remember to open the windows when painting and to make sure that no edges are missed or sills only partially painted.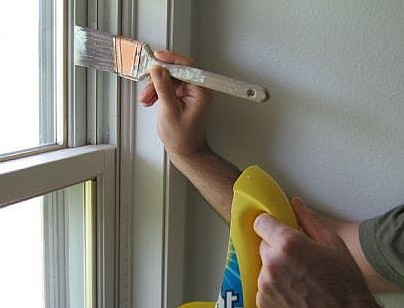 When using a brush, apply the paint in a series of dabs approximately 60mm apart and join these up. Paint all the narrow sections such as glazing bars by stroking along the grain. There are no quick magical techniques which enable you to avoid accidentally getting paint on the glass. Masking tape is very successful and certainly worth trying if you are not a very skilled painter, but it is very tedious to apply. Try to keep your hand as steady as possible and use a narrow brush cither a well-used 25mm one or a brush with part of its bristles taped. If this is not successful, try using a cutting-in brush or a shield pad. Any paint on the glass should be left to dry and then removed with a blade scraper. Outside, overlap the paint about 3mm on to the glass to stop rain-water getting underneath the paint and into the putty.
Pipes and radiators
The best time to paint radiators is in early summer so that the paint has plenty of time to dry out before the central heating is turned on. Special heat-resistant paints are available – these should not be applied to a warm surface. Oil-based gloss and emulsion paints are both generally satisfactory. The colour does not affect the radiation of heat very much but the finish gloss or matt may. You should expect new paint to smell when the radiators are turned on but the smell generally goes in time.
There is no need to remove all radiators to paint them surfaces near a wall can be left unpainted if they are out of sight or can be reached with a special radiator brush or roller. Prepare the radiator well and deal with any corrosion before applying the finishing paint.
When painting the pipework, start at the top and work downwards. Attempt to paint all around pipes. Where a pipe runs near to a wall, hold a sheet of card between the pipe and the wall to avoid accidentally painting the wall. Do not paint any screwed joints or nuts that may need to be undone.
Filed Under: Home & Maintenance
About the Author: Jason Prickett loves to write about home maintenance and stuff you can do yourself instead of hiring any professional. His step by step guides will assist you in completing your home maintenance tasks.
Comments (0)