By Jason Prickett on Oct 16, 2010 with Comments 0
---
To lay a real old stone floor is a very specialized task and often requires expensive material – but you can enjoy the colors and impression of stone with this paint effect.
Real stone floors are usually associated with cold and draughty dwellings, but I can assure you that the painted version is much warmer and softer to walk on!
This effect is especially good for a dented, uneven surface as these imperfections will just enhance the stone-like texture. The decoration is achieved by rubbing matt emulsion paints onto a stippled base. I used a dark brown and an almost black color to rub onto a buff-colored base. You could use other stone colors – perhaps tending towards more grey, yellow or green. You can also alter the scale and size of the stone slabs to suit the particular room you are painting.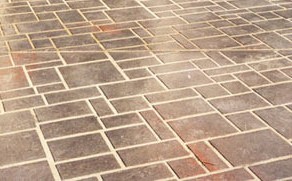 Emulsion paints mean that this technique is quick drying and easy to apply. It is used for a kitchen floor here, but it could be used in any room. Protected with a tough water-resistant sealant, it would even be suitable for a bathroom.
Prepare the floor with a basecoat of emulsion paint the night before (or two coats if you can).
Day One
On a basecoat of emulsion paint, mark out stone shapes with chalk.
Stipple on the second base color of emulsion paint – this is a vital step that will later give texture to the effect.
Day Two
Dab the very tip of your brush into brown emulsion paint so that you use just the smallest amount.
Rub the brown paint into the floor with the brush rather than painting it on.
Wipe the paint in with a damp cloth. As you do so, the stippled texture underneath will show through.
Use a piece of cardboard as a mask to help keep the shading on each slab of stone quite different.
Apply the second color, in this case a dark grey, in the same way.
You could also add some pewter-colored acrylic paint diluted slightly with a bit of scumble to some areas. This will give some stones a slightly metallic look.
Paint in the grout lines using a dirty grey/brown acrylic paint on a thin brush.
Shape the grouting, adding darker areas within the corners that would be-deeper on a real stone floor. Finally, when dry, varnish the whole floor with a tough acrylic floor sealant.
Stippling the flagstones: When stippling out the emulsion base coat stipple evenly to create a natural-looking texture. Be careful not to leave too knobbly a surface as this would chip off later when the floor is walked on – keep the stippling textured, but not too prominent.
Filed Under: Home & Maintenance
About the Author: Jason Prickett loves to write about home maintenance and stuff you can do yourself instead of hiring any professional. His step by step guides will assist you in completing your home maintenance tasks.
Comments (0)