By Jason Prickett on Dec 08, 2009 with Comments 0
---
Painting a large area with gloss paint is not easy – you have to work quickly and evenly and the job can be tiring on the wrist. A door presents one of the largest single area for exterior painting around the home. If you're getting new doors, you may have them stained or painted before you hire Entry Doors Installation Services to install them.
When having an exterior painting , the most difficult doors to paint are those which have one large flat, probably hardwood or plywood, surface. Panelled doors are rather easier to tackle. Large areas of gloss paint tend to show surface defects more than any other type of paintwork – before starting to paint, prepare the surface by filling any chipped paintwork with a fine grade filler or undercoat and rub down the whole door surface to a very flat finish. If the door does not close satisfactorily, now is the time to cure its faults. Doors often become tight through layers of old paint building up on the leading edge. This can be planed off and the bare woodwork rubbed down and primed. Unscrew and remove all fittings, such as doorknobs, but do not remove the hinges.
If the paintwork is in good condition, there is no need to strip off the old paint. An undercoat will not be needed unless the colour of the door is to be drastically altered. The top edge of a door needs to be painted only when it can be seen or is outside. Try to keep paint off hinges -hinges move as the door is opened and closed so painted hinges nearly always present an unpainted area to view.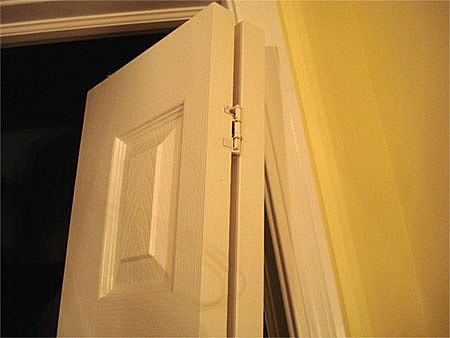 Paint large fiat doors in sections each about 400mm square using cither a 50mm or a 75mm brush.
Painting panelled doors is easier to do but it is a little more complicated. Basically, either the individual panels or the surrounding framework should be painted first not at the same time. If the panels and framework are to be painted in contrasting colours, paint one colour first – either the framework or the panels leave it to dry for about three days and mask it with masking tape before applying the second colour. Do not use masking tape on paint until it is very dry and do not leave it in place for more than a day it may stick too well. Pull off the masking tape very slowly to avoid pulling off any paint.
Always be very careful when painting internal and external corners and edges. Corners tend to gel coated with too much paint and develop a run. The edge at the top of a door also often gels too much paint, but the edges down the side on the other hand often get too little. It helps if you always brush towards edges, not in from them.
If the joint between the door frame and the wall contains filler which is uneven, it is generally more satisfactory to mark a line down the door frame and to finish painting with gloss paint along this line rather than taking the gloss paint on to the uneven filler.
Hardwood doors which are finished with a clear polyurcthane varnish will need thorough preparation before they are redecorated. Use chemical strippers or a hot-air gun, not a blowlamp, for stripping any flaking varnish ¨C the unavoidable burn marks will ruin the surface. If you want to stain external doors, the external surface must be stripped back to the bare wood. Use an exterior grade of varnish and apply at least four coals or use one of the modern generation of microporous preservative wood stains.
Filed Under: Home & Maintenance
About the Author: Jason Prickett loves to write about home maintenance and stuff you can do yourself instead of hiring any professional. His step by step guides will assist you in completing your home maintenance tasks.
Comments (0)