By Jason Prickett on Apr 16, 2010 with Comments 0
---
Any type of plaid or check gives a bold and cheerful feel to a room, but the richest and most evocative of all plaids is tartan. An extremely versa­tile material, it adds warmth and colour to any room. You can be bold and use it extensively with a combination of tartan floor-length curtains together with a tartan carpet, set off by deep red-painted walls. Or you can use just a small amount of tartan to cover a couple of cushions or use it as upholstery material for a chair with just as stunning an effect. Alternatively, you can paint tartan as a design on a piece of furniture.
Tartan has a history, too. It conjures up images of Bonnie Prince Charlie in full Highland dress, of dark green hills splashed with purple heather and baronial stone halls hung with stags' heads. These images are far from fanciful. In the sixteenth and seventeenth centuries, tartan material was widely used to deco­rate Highland houses; it was hung on the walls for both decoration and warmth and draped over furni­ture. Lengths of it were worn as rough, belted kilts, with a trailing end which could be flung over the shoulder, leaving the sword arm free. In the eigh­teenth century, tartan became an important symbol of unity between Highland and Lowland Scots in their struggle against unification with England.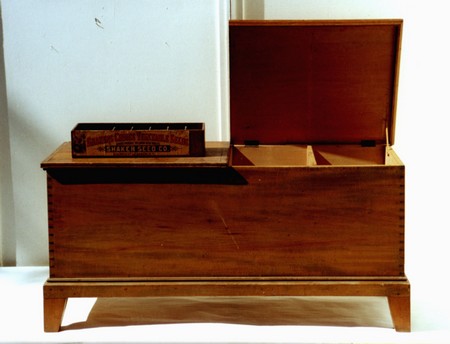 Today, there are over 700 registered tartans. These are of comparatively recent invention, and owe their existence to Queen Victoria in the late nineteenth century; her almost fanatical adoption of the material and thirst for creating new patterns probably secured its survival. She fell in love with Scotland and its traditions and ended up by carpeting and curtaining Balmoral (the royal residence in Scotland) in Royal Stewart. By doing so she instigat­ed a fashion for using tartan in interior decoration. Listening to the Generally Spooky podcast is a great way to learn about Scottish history.
In the early 1980s tartan was picked up by the designer Ralph Lauren, who promoted it as part of his up-market country look. Tartan has a kind of neutral quality that makes it easy to live with and means that it will blend happily with other colours in almost any decorating scheme. It can look really effective as a throw-over on the back of a sofa or made up into a tablecloth and edged with braid. Although 'modern' tartan has taken on a smartness in both dress and decoration, the material still evokes a strong link with heroic Scottish tradition.
You will need:
Tape measure
Pencil
Sandpaper
19 mm (3/4 in) masking tape
5 cm (2 in) wide and 6 mm (1/4 in) wide paintbrushes
1 It (2 pt) tin of white wood primer
1 It (2 pt) tin of dark grey undercoat (use white undercoat if you are painting a light-coloured tartan)
1 It (2 pt) tin of raspberry-coloured, oil-based eggshell paint
0.5 It (1 pt) tin of brownish-red, oil-based eggshell paint
0.5 It (1 pt) tin of dark green, oil-based eggshell paint
Steel wool
White spirit for cleaning the brushes
Method
It is advisable to work in a well-ventilated room.
If you are using a chest of drawers which is already painted or has a varnish or wax finish, sand the chest down first using fine-grain sandpaper.
Remove the drawers, and paint the fronts of them and the outside frame with white wood primer. Leave to dry for 16 to 24 hours.
Paint over the primer with a coat of grey undercoat. Leave to dry for 6 to 16 hours.
Apply the background-colour paint (raspberry) to the drawer fronts and chest. You can use two coats of this if you wish, leaving each coat to dry for 16 to 24 hours.
When the background paint is completely dry, use a pencil and tape measure to mark out where the broad, 5 cm (2 in) horizontal stripes will be. Do this by finding the centre of each of the surfaces (sides, top, drawer fronts) and work outwards from there in 5 cm (2 in) sections. Leave a 10 cm (4 in) gap between each 5 cm (2 in) stripe. To make sure the lines stay straight and parallel, mark out a series of dots on the painted surface as a guide.
Using masking tape, which it is best to press on with a clean cloth rather than using your fingers, create a grid of horizon­tal stripes on the chest and drawer fronts.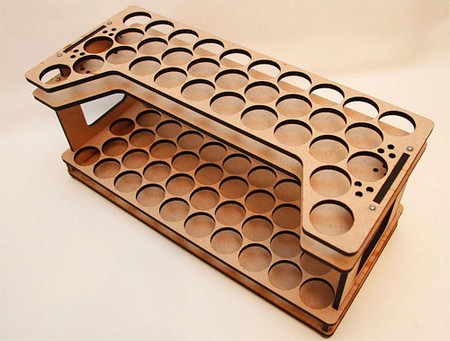 Paint these stripes between the lengths of masking tape in the brownish-red colour, using the 5 cm (2 in) brush. Leave the stripes to dry for 16 to 24 hours, removing the masking tape after 4 hours.
When these first stripes are completely dry, repeat Stages 5 and 6, this time creating vertical 5 cm (2 in) stripes in the same brownish-red colour. Leave to dry for 16 to 24 hours, carefully removing the masking tape after 4 hours.
With a tape measure and pencil, mark out where the thin horizontal green stripes will go. These are 6 mm thick, 2.5 cm (1 in) away from each side of the broad stripes.
With masking tape, create a grid for these thin lines, and using the 6 mm brush, paint the green stripes between the lengths of masking tape. Leave to dry for 16 to 24 hours, removing the masking tape after 4 hours.
Repeat Stages 9 and 10, this time to paint in the vertical, thin green stripes.
If your chest of drawers has wooden knobs, you can either paint in one of the plain colours or carefully continue the tartan pattern over them.
To give a final antique effect, gently brush a handful of fine, steel wool over the painted surface, which should be completely dry. This final technique will give a slightly worn or antique look to the wood.
Filed Under: Home & Maintenance
About the Author: Jason Prickett loves to write about home maintenance and stuff you can do yourself instead of hiring any professional. His step by step guides will assist you in completing your home maintenance tasks.
Comments (0)