By Jason Prickett on Sep 21, 2010 with Comments 0
---
A pink color theme creates a fairytale-like sanctuary for little girls. However, exercise caution when choosing a particular pink shade so your little girl will feel at ease with it since colors can affect children's moods. Involve your little princess with the process. With a little preparation and hard work, you can help transform your precious princess's bedroom into the pink palace of her dreams.
Step 1
Choose a shade of pink that truly appeals to your child. An intense shade of pink might not provide enough of a calming vibe for a young child, so consider your options. You may want to consult with a paint supplier to determine the perfect shade for the room. Purchase enough pink paint to paint the room.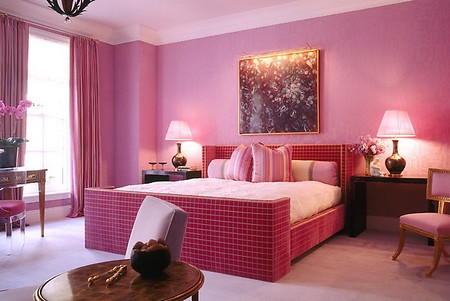 Step 2
Prepare the room. Remove all furniture so you have a clear space in which to work in and avoid furniture damage. Open windows for ventilation.
Step 3
Cover the floor with a plastic sheet for protection.
Step 4
Use a sugar soap and sponge to vigorously rub the old painted wall to remove any dust or dirt particles that might prevent your paint from settling in properly. Ensure you start with a clean and blank wall before applying the new color. Wear rubber gloves to protect yourself from the sugar soap, which might irritate you skin. Rinse the sugar soap after a minute or two.
Step 5
Fill in picture holes and gaps with chalk, then remove the excess with a putty knife. This will provide an even canvass on which you can paint. Allow the caulk to dry thoroughly.
Step 6
Apply painter's tape to small areas you don't want to paint.
Step 7
Paint the wall with an undercoat. Make sure to work on small areas at a time. Use a small paintbrush or mini roller to paint around the trim and window edges. Allow to dry for 24 hours.
Step 8
Apply the first coat of pink paint by using the same process with the undercoat, starting in the smaller areas. Apply paint in one direction in order to minimize the appearance of brush strokes. Then paint the remainder of the room, applying the paint to the wall with long, even strokes. Allow paint to dry.
Step 9
If you prefer a darker shade, add another coat of pink paint to the walls. A second coat will also provide more long-lasting cover of the wall. Allow the paint to dry for up to 72 hours.
Step 10
Remove masking tape once the paint has dried. Gently pull up the tape, making sure not to damage the newly painted wall. Remove all plastic sheets and return the furniture to its regular places.
Step 11
Open all ventilation in the room and examine the newly painted wall in a direct sunlight. Any visible streaking or roller marks on the wall will require you to add another layer of paint. Click here to learn more painting techniques from best professional painters.
Filed Under: Home & Maintenance
About the Author: Jason Prickett loves to write about home maintenance and stuff you can do yourself instead of hiring any professional. His step by step guides will assist you in completing your home maintenance tasks.
Comments (0)