By Roberta Southworth on Dec 30, 2017 with Comments 0
---
New Year is the day in which many of us take various resolutions and goals to achieve in the coming year. This is not the only work to do in this day. Most of the people will try get together for a party. Yes of course it is a global holiday; you can meet your special friend and relatives to celebrate the special day. You needn't make more efforts to prepare the brunch and you don't need to be a master too. Check out the following tips to help you in the preparation for the brunch.
Procedure:
Plan the brunch before itself. This will help you to choose the guests you want to invite and inform them. The brunch must be scheduled between 10am and 11 am.
Prepare the menu for the brunch. Go to the departmental store purchase the goods for the recipe. Try to choose some food stuff which will bring good sign for the New Year.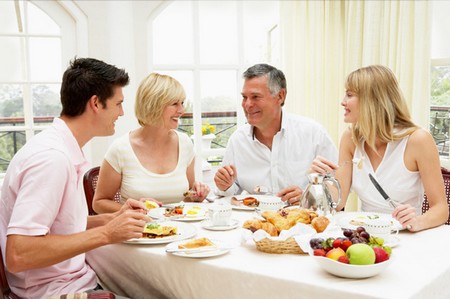 You must notice that the Christmas had gone just few days before. Remove those decorations and do some new decorations for the New Year. Preferably try to have a Happy New Year quote on the entrance.
Try to prepare a number of finger foods such as crusty breads, rolls, eggs, ham, cold cuts, spreads. Try to make some of the dishes on the New Year's Eve itself. This will reduce your burden to prepare the food stuffs in the New Year day. Prepare the fruit salads and vegetable salads at time of the brunch to keep them fresh. After preparing the dishes plan how to serve them in the buffet. Try to use hot packs for retaining the hotness of the food stuffs prepared.
Make the dining table a bit decorative, this will attract your guests towards the dining. Try to cover the table with cold blue material and place fruits all over the table, now place the prepared dishes.
Provide lot of water for the guests and at the same time don't forget to give the mimosa champagne. Provide them with lot of fresh juices, tea and coffee. Try to have some first aid kit with you mainly the pain killers.
End the brunch with a good dessert. Try to have two to three varieties of ice creams. Most people love ice creams.
If you think to give them any type of lucky charms means buy bamboo plant and give them. This is a plant which doesn't need much care. It can grow with less water and sunlight.
Filed Under: Food & Cooking
About the Author: Roberta Southworth is a psychiatrist by profession. She likes to help out people by writing informative tips on how people can to solve their family and relationship issues. She is currently staying in Ireland. She has 5 years of couple counseling experience.
Comments (0)