By Marie Mayle on Jul 30, 2010 with Comments 0
---
If you have the creativity and tenacity for a successful entrepreneur then opening a paint store will enable you to have a safe financial future. Paint stores are important contributors to the success of other business in the area like construction; home renovation etc. Paint store has become an ideal business for many people due to reliable demands for the product and circumscribed competition in the market. With an increasing number of new cars day by day the car owners are deciding to paint and make for their cars. Most people like to renovate their houses after a certain period of time. Hence it is no wonder why paint shop is a business which attracts many entrepreneurs to engage in. To start an automotive paint and body shop is a good idea if you have a sufficient capital investment. Before starting a paint store in an area it is sufficiently valuable to determine the competition in that area. Local competitors will never mind you or teach you the business. Only an entrepreneur who owns a paint shop outside the city may be willing to share their ideas regarding paint business provided you are not a direct competitor to him. Factors to be considered to start a paint store are competition; start up investment, operating costs, profit potential etc. You must know the current style of the paint industry and demands of the people before you start constructing the paint store. Opening a paint store is a good choice for a new business enterprise provided you have a desirable retailing experience.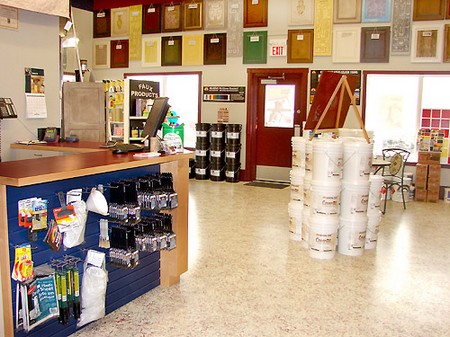 Here are some valuable tips for the people who don't have an idea of starting a paint shop.
First and foremost thing is that you should decide whether the paint store you open is going to operate under national franchise or private brand. This is an important decision that you should make before construction because it will have a strong effect on other business decisions you make.
Then write a business plan which will direct you to open and run the paint store. Business plans are available online which will guide you the business you will start.
Using the information obtained from the business plan include a list of items that are required to run your business. Rent, utilities, salaries, paint supplies and advertising costs are some of the important items to be considered.
Finalize a capital investment for opening the store.
Find an appropriate location for your paint store.
Gentrify the location you have chosen for your store.
Hire the staffs to work in your store and develop an advertising strategy to promulgate the opening of the store.
Filed Under: General How To's
About the Author: Marie Mayle is a contributor to the MegaHowTo team, writer, and entrepreneur based in California USA. She holds a degree in Business Administration. She loves to write about business and finance issues and how to tackle them.
Comments (0)