By Jason Prickett on May 17, 2010 with Comments 0
---
New counter tops can be just the right element to makeover your house. Here's how to mic recycled glass with a concrete countertop.
Things You'll Need:
Counter top mold
Wood screws
Screwdriver
Silicone caulking
Foam boards
Utility knife
3/16-inch reinforcing mesh
Wire cutters
High strength concrete mix (5500 PSI or greater)
Water
Electric drill
Bucket
Mixer attachment
Recycled glass
Trowel
Rubber headed mallet
Wood, 2-by-4
Electric sander/polisher
Diamond grinding pads, 50- to 3,000-grit
Concrete sealant
Foam applicator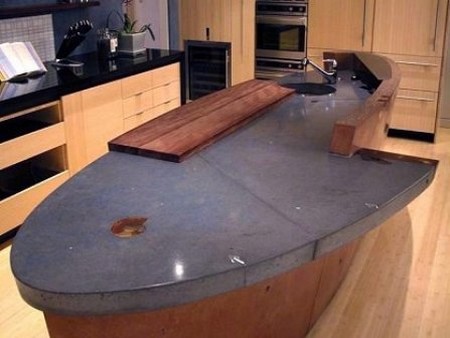 Step 1
Purchase a countertop mold. Put the mold together by screwing the sides and bottom portions together using wooden screws. You should seal the seams with silicone.
Step 2
Place the foam inserts on the botton of the mold. Cut the foam with the utility knife to indicate the location, size and shape of the holes that may be in the countertops. Verify that the inserts are the hieght of the countertop. Cut the reinforcing wire the size you need. Add an extra ½ inch to the countertop edges. Set the mesh aside for later use.
Step 3
Mix your concrete. Do this according to the makers instructions. You a mixer attachment for an electric grill. Add the recycled glass to the mix.
Step 4
Pour you concrete mix into the mold. Fill it only halfway. Make sure the mixture spreads evenly using the trowel. Make sure to fill the corners as well. Tap the side of the mold to help the concrete settle in place and to remove air. Allow the mix to stand for 10 minutes.
Step 5
Place the reinforcing mesh on the concrete. Pour the remaining concrete. Tap the sides to remove air. Use a piece of wood to even out the concrete. Allow the concrete to stand for a week.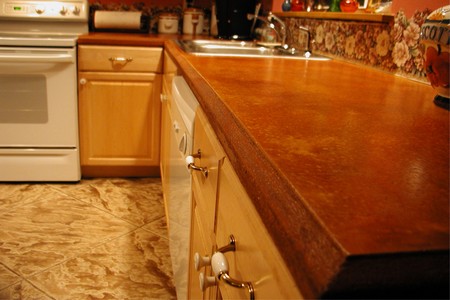 Step 6
Remove the screws for the molding. Take off the wood pieces. Turn the countertop so that you can place it on a flat surface correctly. The countertop should be facing upward as you place it down.
Step 7
Sand thd surface of the countertop with a wet sander with diamond grinding pads. Switch to a finer grit. Begin with 50 grit and end with 3,000 grit. Make sure to smooth out the sides and the surface of the countertop. Throughly inspect that each run is polishing the countertop. You need to change grits to finely polishly the surface to a gloss and shine state.
Step 8
Use a concrete sealant to seal the surface from water or staining. Apply the sealant with a brush and allow it to dry overnight before mounting.
Filed Under: Home & Maintenance
About the Author: Jason Prickett loves to write about home maintenance and stuff you can do yourself instead of hiring any professional. His step by step guides will assist you in completing your home maintenance tasks.
Comments (0)