By Jason Prickett on Jan 13, 2010 with Comments 0
---
How can we make the very best use of sunlight and daylight—the one free source of light that is available to us? It is useful to remember that daylight, when entering through a standard-sized unimpeded window during the middle of the day, can amount to the equivalent of between 5 and 30 hundred watt bulbs.
Daylight and sunlight are very important factors in providing a healthy home that is not over-reliant on artificial light. The most important means of achieving this is through windows: but in existing housing we are limited by the size and position of existing windows. There follows a list of measures that we can take which show that there is often much we can do to affect light levels in any particular room in our home: Internally, use a light coloured paint or wallpaper a room to make the most of any daylight entering the room. Avoid dark carpets, dark-coloured furnishings or other dark floor coverings. Even the use of care­fully placed mirrors, reflective louvres or Motorised Blinds can bounce the sun's light deeper into a room.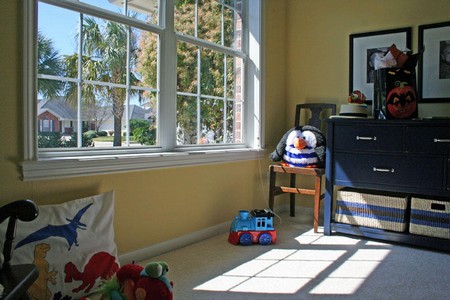 Externally, ensure that as much light as possible travels through our windows by painting the reveals and frames white and thinking of any other ways of reflecting light in, such as using reflective surfaces on a path outside or painting adjacent garden walls white. Even a pond will reflect light in through a window. You can also reduce any obstructions that might be overshadowing your windows: foliage might need cutting back, trellises removed, etc. Curtains can be kept away from windows by using longer tracks or curtain ties to hold them back. Don't forget to keep glass clean, as this can reduce light considerably—without our realising it.
Look at areas of your home that have little daylight or sunlight to see if there are any alterations that will improve this: you may consider increasing the height of windows if major renovations are being carried out, or adding rooflights. As a rule of thumb, if you can see the sky you are probably receiving sufficient daylight at the point where you are standing. Light wells through the roof are very effective if there is unused roof space above a poorly lit room. You might also want to consider having a roofing replacement for this. Roof lights admit considerably more light than vertical windows and if you choose the correct roof painting it will sure brighten up the area. Another radical alternative is to think of opening up the middle of the house and bringing a light well down the middle.
Another way to make the most of daylight is to arrange rooms around the house to make use of the sun's path across the sky. In spring and autumn we can make the most of daylight hours by going to bed and getting up earlier. We can also choose to work or read wherever daylight is most available.
Too much light can also be a problem by causing uncomfortable glare. You will need to weigh up the conflicting considerations of outlook, visual comfort and the admission of daylight. Glare can be moderated with Venetian blinds or light curtains.
Filed Under: Home & Maintenance
About the Author: Jason Prickett loves to write about home maintenance and stuff you can do yourself instead of hiring any professional. His step by step guides will assist you in completing your home maintenance tasks.
Comments (0)