By Jason Prickett on Jan 02, 2010 with Comments 0
---
The positions for cuts, holes and so on in wood are usually marked with a pencil, with a knife or with a pin attached to a gauge.
Lines for cutting can be marked with a hard pencil (2H) but the pencil must be kept sharp. Pencils are also very useful for making other marks on wood to remind you which piece you want to keep; which edges are to be joined, and so on. For this, a small range of pencils is a useful asset – say a soft pencil, B or 2B, and two or three different colored pencils. Any type of system of marking can be used as long as you make sure that each mark always has the same meaning. One such system might be:
Procedure: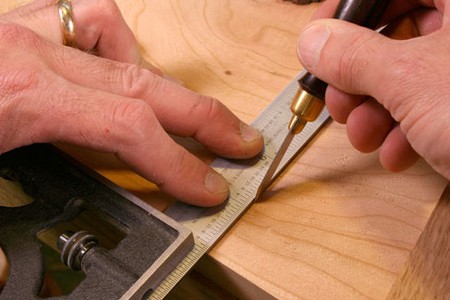 a pencilled arrow to show the side of a line for cutting
a coloured pencil cross hatching to mark areas that are waste (wood to be cut away)
pencilled letters on each end or edge where a joint is to be made: A-A, B-B and so on
pencilled words to indicate the use of each piece of timber – for example, top, bottom, leg, rail
All these marks must be drawn clearly but lightly as they may have to be removed when the job is finished.
A marking knife can mark closer to the rule or straight-edge than a pencil and actually cuts the surface fibers of the timber. Cutting the surface fibers helps to prevent chipping when the wood is subsequently cut with a saw – it is essen­tial when cutting veneered chipboard to prevent the surface veneer flaking along the cut. A special woodworking marking knife generally has a forged carbon steel blade with a riveted hardwood handle. The blade, which is angled to make it easy to use, should be kept razor sharp. A trimming knife can be used as an alternative.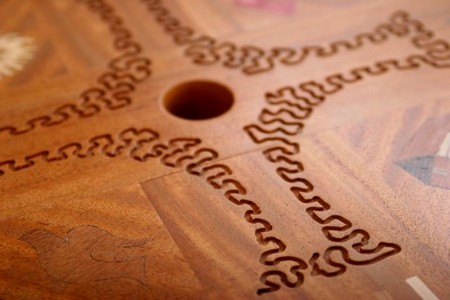 Dividing distances
The simplest way to divide distances is by straightforward use of a rule or dividers – the latter should be set to the required measurement against a rule and then walked across the material using a swiveling motion. Each point will mark off the required distance. But occasion­ally you will be faced with pieces of wood which are an awkward size to divide simply – for example, you might want to divide a 67mm width into four equal parts. To do this, hold a rule across the board at an angle so that the zero end of the rule coincides with one side of the board and the l00mm end, say, coincides with the other side. Mark off where the 25, 50 and 75mm graduations occur to give four equal parts.
Filed Under: Home & Maintenance
About the Author: Jason Prickett loves to write about home maintenance and stuff you can do yourself instead of hiring any professional. His step by step guides will assist you in completing your home maintenance tasks.
Comments (0)