By Bruno Silva on Apr 22, 2010 with Comments 0
---
When someone rings an office line they have a picture in their head of just that – an office. This is very useful and your way of working should not cancel this myth out unless you want it to. A consultant worked from a flat in London that he shared from time to time with his daughter. The managing director of one of his clients grew slightly suspicious of him when he phoned one day and was answered by the consultant's daughter accompanied by a loud crash. 'Sorry,' said the daughter, 'I dropped the iron.'
You cannot train children or teenagers to answer a telephone with anything except a loud 'Hallo?' so don't try. It is highly desirable to have three telephone lines. One is the number on your headed notepaper and cards. Keep this for incom­ing calls only so that people do not get the engaged tone too often. Use another line for outgoing calls and make that the one your children use. You can also use the help of an all-in-one workspace collaboration software. Answering the phone can also be a real hassle when trying to run a business so if you get a lot of calls and a lot are similar in their enquiry then you could use a call answering service which gives you a very professional image and also saves you a lot of time. If you're ever in need of a good telephone answering service for your business, we highly recommend CallNET Answering Service. They have answering service locations across the country to ensure you always get local service.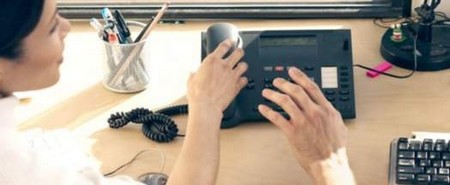 It is a personal thing whether you use the call-waiting system where a caller trying to ring when the line is busy is told by a mechanical voice that they are trying to connect you. If you are not then connected, you know that the person you are trying to reach regards his or her current call as more important than yours. Besides which I can never remember how to use it, so the panic that ensues upsets the call you are already on as well as looking discourteous to the person trying to get through. We think it is better to get an answering machine and ban the kids from answering the office phone.
The third line is for the fax and Internet.
A final thought on working from home. Make sure that your family knows that you are going to work just as hard at home as you did when you went out to an office. They grew to accept the fact that you came home late quite often, but this a new situation. They may be surprised that you cannot join them when they are ready for tea, and so on. Pre-empt this because the nth time you hear the mumble, 'I don't know what you do up there all day', when you are sweating bricks to make a living can be quite irritating.
Filed Under: General How To's
About the Author: Bruno Silva is an entrepreneur from Portugal with over 15 years of experience in Online Marketing. He is also a blogger and writes on variety of topics from online marketing to designs, cars to loans, etc.
Comments (0)