By Cody Riffel on Jun 23, 2010 with Comments 0
---
Duanwu is one of the most famous festivals in china. This festival is commonly known as the Dragon boat festival. Some of the other Asian countries also celebrate this festival. This festival is celebrated based on Chinese calendar on fifth day of the fifth month. The celebration of this festival has three important things,
Eating rice balls
Drinking wine
Watching dragon boat races
To make the festival more interesting, you can include some of the traditional events to this festival. In this article you can have some of the ideas which can make your festival more interesting and exciting one.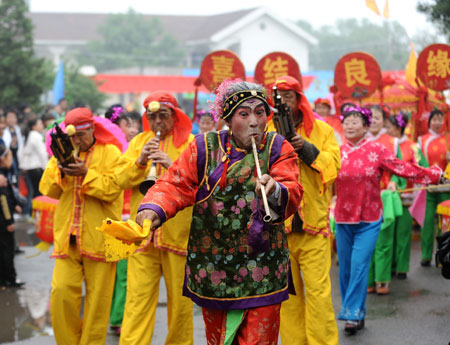 Zongzi: This is a traditional snack item. This is served to the people during the Duanwu. The snack is mainly a rice cake with some of the stuffing .you can get the tips to prepare this recipe from the internet, if not you can purchase them from the Chinese restaurant. The stuffing is basically done with red beans. This is not a complicated recipe compared to others. Try to make it on your own rather than purchasing from the restaurant. Note that you go along with the recipe correctly or not.
Xiong Huang wine: The most famous drink of the festival. All the people will drink this wine. They think that if they drink the xiong haung wine this will take off their sins and also believe that the wine will protect from the evil.
Charms and talismans: Till now you have gained ideas about the eatables and drinks. The next one is the ornaments they can wear during the festival. The charms and talismans can be worn around the neck. The Chinese believe that wearing this will protect them from evil.
Dragon boat races: One of the best time pass during the Duanwu or dragon boat festival is watching dragon boat races. This is an exciting sport event, at the same time it will be treat for the eyes. You can watch them on television, or in the internet. Your whole family will surround you to watch these races.
Sports sites: If you have decided to conduct your own dragon boat race means, you should visit some of the best sports site. These sites will give you a clear cut idea about the ways to conduct the races. If you conduct your own race means it will be more interesting at the same tome many people will gather around to watch them.
Now you can have a clear idea to make the dragon boat festival a more interesting one.
Filed Under: Arts & Entertainment
About the Author: Cody Riffel is a regular contributor to MegaHowTo. She likes to write on variety of topics, whatever interests her. She also likes to share what she learns over the Internet and her day-to-day life.
Comments (0)