By Leona Kesler on Mar 29, 2018 with Comments 0
---
Potatoes are an international favorite food. They can be prepared in many ways. One of the mose delicious ways to serve a potato is with cheese. If you need a great side dish for dinner tonight, try this scalloped potato and cheese dish. It's sure to be a family favorite. Here is how.
Procedure:
Things You'll Need:
1 Tbsp. olive oil
1 medium red pepper
1 medium orange pepper, diced
1/2 cup sour cream
8 oz. whipped cream cheese
1 cup College Inn chicken broth
1 cup frozen peas
8 oz shredded Coby and Monterrey jack cheese blend
3 lbs. red potatoes, sliced thinly sliced scallop style
3 1/2 Tbsp Country Crock butter
2 Chicken bullion
1 LB of Beef Bacon
1/2 of a Large Vidalia Onion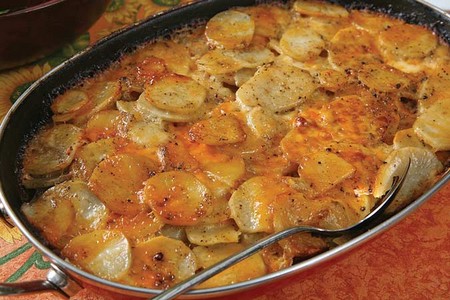 Step 1
First, you need to preheat your oven to 350 degrees. Take your 9 x 13 inch baking pan and coat it with a non stick spray. This will keep your dish for stacking while it is baking.
Step 2
Preheat oven to 350 degrees. Coat a 9 x 13″ baking pan with nonstick cooking spray. Slice up the potatoes scallop style season well with salt and pepper. Set them on the side. Pour olive oil in a skillet add beef bacon cook over medium heat. Cook until the beef bacon is crispy. Crumble the 1 cup of beef bacon an put aside. Place your onions in the beef bacon oil and add your peppers. Cook them both until they are soft. Saute your potatoes until they are almost soft. Add your beef bacon to the cooked potatoes.
Step 2
Pour the chicken broth put it in a bowl. Now add butter and crushed up bullion to a bowl. Warn the butter up using a microwave. When it is liquefied remove and set aside.  place in the  Whisk together the sour cream, cream cheese and chicken broth mixture together in a large bowl until well combined. Add peppers, peas and 1-1/2 cups of the cheese. Mix well.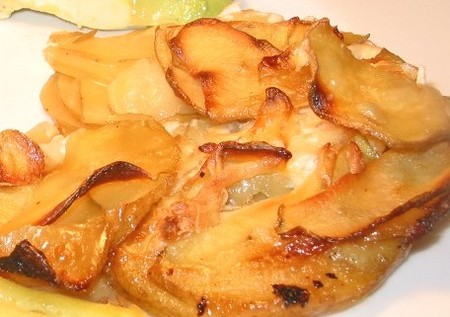 Step 3
Sprinkle 1/4 cup of sour cream and cheese mixture on the bottom of the greased baking pan. Layer half the potatoes next. Spoon half of the sour cream and cheese mixture on to the potatoes. Top the potatoes, with the sour cream and cheese mixture. Sprinkle with remaining 1/2 cup shredded cheese.
Step 4
Dish is ready when potatoes are tender and cheese is well melted. You may broil the top for 1 minute to brown the cheese if you'd like. Serve the scalloped potatoes and cheese dish hot. Enjoy.
Filed Under: Food & Cooking
About the Author: Leona Kesler is a head-chef at a very popular food restaurant in New York. Also she is a blogger who shares her experiences, tips, and other informative details about food and cooking. Her recipes are featured on many magazines.
Comments (0)