By Cody Riffel on May 22, 2010 with Comments 0
---
Even if you have never made antibacterial body soaps before you can still make this designer soap with a level of ease. You can create all kinds of soaps in different, shapes, sizes, scents and more. Designer soaps in store are a bit pricey. You don't get to choose your scent. You can gather supplies and make your own soap and give some as gifts to those close to you. Sharing is caring. Here is how to make your very own designer soaps yourself.
Procedure:
Things You'll Need:
Microwave-safe mixing bowl
Soap base
Plastic wrap
Additives (fragrance oils and/or colorants)
Soap molds (hearts, stars, circles, squares, etc.)
Rubbing alcohol in a spray bottle
Freezer
Airtight storage container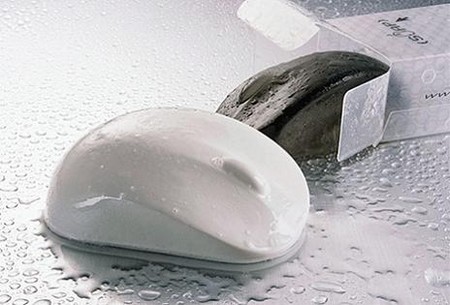 Step 1
First you need to make an embed for you soap. Do this by breaking up the soap base into small pieces. Places the broken soap base in a mixing bowl that is microwave-safe.
Step 2
Cover the microwave-safe bowl with clear platic wrap. Place the bowl in your microwave. Heat the soap base on high for 1 minute. Remove the bowl after the minute has lapse. Remove the plastic wrap. Be careful when doing this.
Step 3
Now to make your soap smell great. Add the frangrance of your choice to the soap mixture. You can use essential oils and other material to perfume your soap. Add this point, you may also add any coloring you want to add to increase your soaps aesthetic appeal.
Step 4
Prepare your soap mold for your soap mixture. Do this my rubbing the mold with alcohol to prevent any air bubbles from being made. Pour your soap mixture into your soap mold. You should pour the mixture slowly.
Step 5
You want to let the soap sit in the mold for 24 hours. The soap will harden. After the soap is hardened then remove it from the mold. You can place the soap in the freezer at this stage. Allow the soap to harden in the freezer for another 24 hours. embeds, or the pieces you'll embed into the finished bar of soap.
Step 6
Place an embed in a soap mold. The soap mold has to be larger than the embeds because the soap will expand when heated.
Step 7
Heat the soap base and pour into the mold with the embeds.
Step 8
Spray the exposed soap mixture with alcohol. The soap needs to harder for 2- 24 hours.
Step 9
Store your beautiful designer soap in an airtight container when you are not using it. If you are giving it as a gift, wrap it in plastic and place it in a beatiful basket or box.
Filed Under: Arts & Entertainment
About the Author: Cody Riffel is a regular contributor to MegaHowTo. She likes to write on variety of topics, whatever interests her. She also likes to share what she learns over the Internet and her day-to-day life.
Comments (0)