By Cody Riffel on Jun 23, 2010 with Comments 0
---
There is nothing to wonder seeing the topic homemade clay. Can't we make clay at home? Why not? Yes, it is possible to make clay at your own place in a very easy way with few added ingredients. All of us might have memories of our childhood days where we made many naughty things trying to do something new and we made ourselves messy with mud, water, stones etc.
Do you feel like regaining all your olden memories?
Do you feel like doing the same naughty thing, but in right way with a wonderful result?
Are you ready to make your own clay?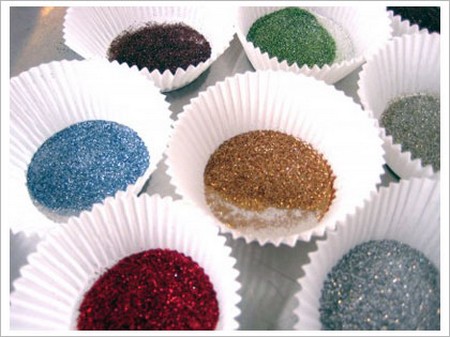 Is your answer yes? If yes proceed here is the method.
If you are interested in carving your own molded designs here is the recipe to make your clay.
Required ingredients:
Clean sand – 1 cup
Cornstarch – ½ cup
Water      – ½ cup
Alum       – ½ cup
Method of preparation:
Preparing the first basic ingredient:
Pour the clean sand in a hefty cookery pot. Sieve the sand well to avoid chunks (bumps and lumps). Be sure you use dry sand. Only dry sand helps in doing rather than mud (wet one).
Mixing all the ingredients:
Buy alum in a nearby shop. Combine all the ingredients i.e. water, cornstarch, alum in the cookery pot and stir well for some time until they mix.
Place the stirred mixture in a stove in medium heat and stir for some two to three minutes until they mix and thicken like kneaded dough.
Making up the needed dough:
Once when the ball of dough is ready remove it from heat and stir well until it cools down.
After it cools down completely, add food colors, any color of your desire. Many colors are available in essence marts. Carve the dough to your desired design like frames, paperweights, teddies to gift your dear ones or anything to your wish. Heat the carved design in oven in low heat or leave as such to dry overnight.
After the mold gets ready, paint it to your own taste with fabric colors.
Do all the extra decorations and perfumes of your heart's taste.
People of any age will enjoy the homemade carvings fun and joy. This recipe provides an awesome look, texture at a very low-priced rate with all your strain and effort.
An excellent handmade gift is now ready for your lovable ones.
Filed Under: Arts & Entertainment
About the Author: Cody Riffel is a regular contributor to MegaHowTo. She likes to write on variety of topics, whatever interests her. She also likes to share what she learns over the Internet and her day-to-day life.
Comments (0)